Selfish selfies cause animal cruelty, death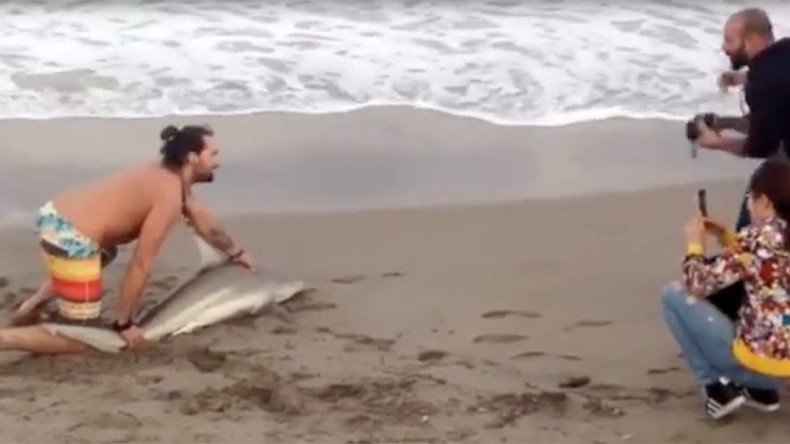 In just the latest incident of an animal suffering for selfies, a man in Florida was filmed dragging a small shark out of the water to take a selfie. The trend has prompted wildlife organizations to plea with the public to stop using animals as props.
Statistically speaking, you are more likely to die by selfie than from a shark attack. In fact, Zachary Crockett has found that since 2014, 49 people were killed in various attempts to take pictures of themselves in exotic situations. Although there are no statistics on how many animals have been harmed due to selfies, recent events have increased awareness of the damage humans are willing to inflict in order to create a unique photo opportunity.
One such human was caught dragging a shark that had been caught in a fishing line onto the shore in Palm Beach, Florida. He proceeded to pin the shark down by its tail and head while throngs of onlookers snapped pictures. When the man was finally finished, another beachgoer attempted to release the shark back into the water, but it washed back on shore.
Discovery reports that it is unclear whether the shark survived, but WPTV's Ashleigh Waters claims that the shark was later carried out to sea, saying "it did not resurface for several minutes."
On February 12th, visitors to the Yunnan Wild Animal Park were reportedly so desperate to take a selfie with peacocks that they removed them from their enclosure. The guests used food to lure the birds and then grabbed them by their tails, according to a zoo spokesman cited by the New York Daily News. They were literally frightened to death as a result, Mashable reports.
Shark Capture, Release on Palm Beach

VIDEO: Shark capture, release on Palm Beach(Shark was put farther into water after end of video. It did not resurface for several minutes.) WPTV #amcrew #wptvwx #beach #shark

Posted by Ashleigh Walters on Saturday, February 20, 2016
A group of people at a beach in Argentina was recently filmed mobbing a baby Franciscana dolphin in search of pictures, resulting in its death. The combination of shock and being removed from the water so long is thought to have caused the endangered animal to die of dehydration.
Meanwhile, Care for the Wild International has begged tourists to stop taking photos of themselves with wild animals. Even when they are not forcibly removed from their environments, the group claims that animals are being hurt for the sake of Instagram likes and Tinder swipes.
Giving an example of how people torture animals for social media glory, Chris Pitt, campaigns and communications manager for Care for the Wild International, told the Guardian that, "In Thailand it's very popular to have a photo with a slow loris – people are encouraged to think they're cute and good for a photo but these are nocturnal animals from the jungle being dragged around neon-lit resorts, with their teeth and claws clipped, having cameras flashed in their eyes."
Due to the high demand for such pictures, "sanctuaries" are popping up in Mexico, Europe, and Morocco that allow tourists to take photos with wild animals. However, the Association for British Travel Agents stated that no legitimate sanctuary would allow animals to be used as photographic props.
You can share this story on social media: