Smells like love: Sniff out your perfect partner with odor dating site
Published time: 20 Feb, 2016 04:42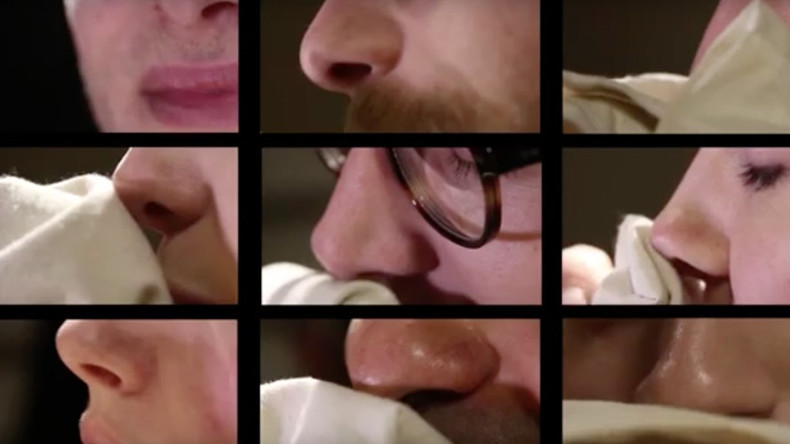 A new exclusive dating service has entered the New York market, encouraging the lovelorn to follow their noses in the quest for true love.
Smell Dating brands itself as "the first mail odor dating service" as opposed to the more familiar term associated with looking for a partner quickly – mail order.
It offers an alternative to the influx of visual based online dating apps, asking people to "surrender yourself to a poignant experience of body odor".
The service is limited to just 100 participants in New York, a fair cut off by most people's expectations, considering the task expects people to wear the same t-shirt for three days so it can collect each participant's unique stench.
"The internet has replaced fleshy experience with flat apparitions, avatars and painstakingly curated profile pics. Smell Dating closes digital distance by restoring your molecular intuition," the website claims.
Participants receive a white T-Shirt in the mail. which they are asked to wear for three days and three nights without deodorants or other scents.
The T-shirt should then be returned in a prepaid envelope, where the, "not-for-profit", Smell Dating will proceed to cut them up into pieces.
Swatches of the T-shirts, worn by a selection of individuals, will be sent back to each participant for them to choose which smell they like –if two parties like the smell of each other then bingo – there's a match.
So if you'd rather trust your nose and smell some sweaty shirts instead of swiping left or right, it will set you back a mere 25 dollars.
The creators of the novel matchmaking site, Tega Brain and Sam Lavigne, have admitted they do not know how successful the technique will be in pairing people off but are looking at it as a fun internet experiment.
"It's an Internet experiment," Lavigne, who is also the co-founder of Useless Press, (a digital arts group known to have a laugh..) told ABC News, adding that he views the service as more of an "art piece," with the potential of expansion in the future.
The website, which appears to have coined the catchy phrase - molecular intuition, backs up it's matchmaking technique with reference to some "stellar" research and even includes a reading list.
"Smell researchers even speculate that high contemporary divorce rates may be related to the overuse of deodorants and the underuse of our natural olfactory intelligence," the website warns.