'Constitutional crisis': ACLU sues Louisiana over lack of public defenders
Published time: 19 Feb, 2016 03:36
Edited time: 19 Feb, 2016 12:17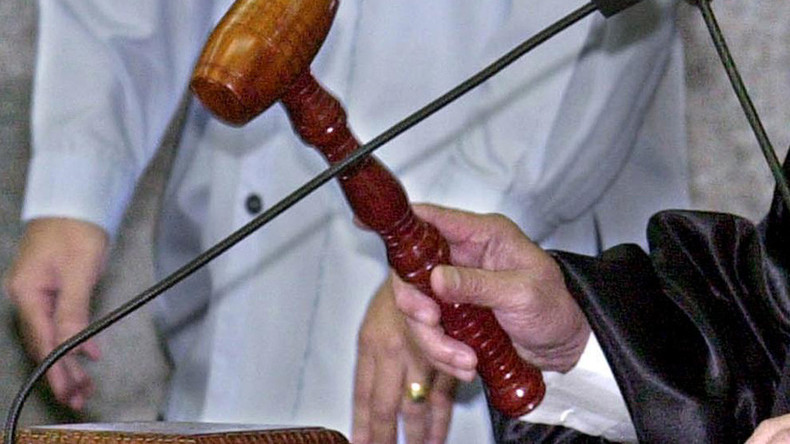 Calling it a 'constitutional crisis,' the American Civil Liberties Union and its Louisiana chapter filed a class action lawsuit against the state's public defenders office because of the shortage of public defenders for clients.
"Louisiana's policy of funding public defenders has been problematic for quite some time because the system essentially is funded on the backs of the people who use it," Marjorie Esman, executive director of the American Civil Liberties Union's Louisiana chapter, said during an interview with RT.
"What that means is if there a lot of traffic tickets written, there is more money into the system. If there are fewer tickets written there is less money into the system. Essentially, it is an unstable revenue source and it also means the poor people pay more heavily."
According to New Orleans Times-Picayune, 66 percent of funding for public defenders offices comes from local sources, and every court conviction generates $45.
Esman said public defender funding has reached a crisis point in the state, which has an across-the-board budget shortfall of $900 million. Various public defenders offices have shut down or refuse to take on new cases "because the money has run out." Lawmakers have been called into a special session to address the budget crisis.
On Wednesday, the Plaquemines Parish defenders office closed its doors because they could not make payroll. The decision came two days after state lawmakers voted to cut $472,000 in funding for state public defenders. Four more offices could face the same future as Plaquemines.
Whatever the circumstances for the lack of resources, this puts the state in violation of the Sixth Amendment of the Constitution, which entitles a defendant to the right to attorney, and is why the ACLU filed their lawsuit in January against the state of Louisiana, and its board of public defenders.
The Orleans Parish Defenders said the lawsuit came as "no surprise" and said it "welcomes reform."
There are three named plaintiffs in the suit so far. All three are being held by the Orleans Parish Prison on separate felony charges, have not been formally charged for over a month, and can't afford bail.
"We filed this as class action in part because there are new people every day. Every time there is a court session more people are being denied counsel and while this started in the city of New Orleans and Orleans Parish we have since filed the lawsuit in other communities which also had restrictions," said Esman. "So it is impossible to give you a real number but whatever the number is it is a constitutional crisis here."
Esman said that defenders are being faced with a choice of not being able to do a good enough job for more people and having to choose people they can adequately represent.
"It doesn't do anybody any good to have lawyers who can't put the time, the energy and the resources into adequately representing them, and at some point the public defenders have had to make that choice," she added.
As a consequence, she said public defenders are refusing to handle the more serious cases because they are resource intensive, instead handling the easier cases with smaller charges and with lesser penalties.
"The state is going to have to come up with a different funding measure," said Esman. "That has to include the funding of the public defenders system. if only because if you can't defend. you also can't prosecute, and the entire criminal justice system comes to a halt. They are considering all sorts of things but there are no solutions at this moment."