'Day Without Latinos': 20,000 protest Republican immigration bills in Wisconsin
Published time: 19 Feb, 2016 02:01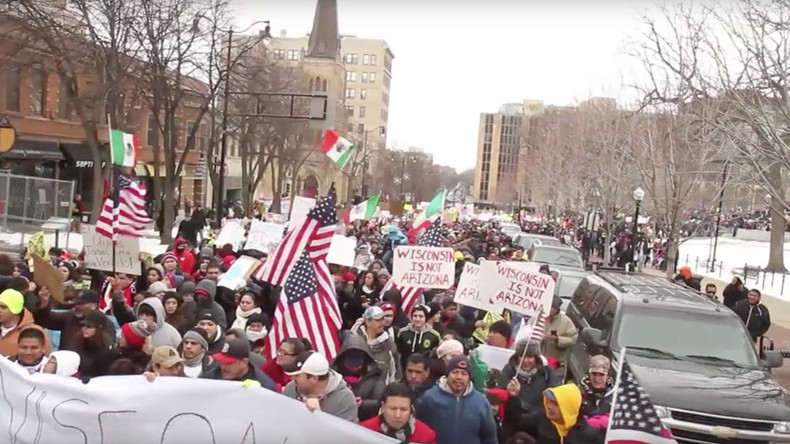 Madison police estimate that up to 20,000 protesters marched to the Wisconsin State Capitol Thursday, 1,500 of whom made it inside, including workers and students staging a walkout for a rally called "A Day Without Latinos" against two immigration bills.
Some businesses even closed shop for the day or at least a few hours. Voces de la Frontera, one of the organizing activist groups, listed tattoo parlors, tax services, daycares, and cafes closing statewide in a press release.
"It's a very, very peaceful crowd," a Madison police official told Fusion, confirming zero arrests. "Lots of families there with their children."
At issue were two pieces of legislation, Assembly Bill 450 and Senate Bill 533. The first would bar any Wisconsin city from restricting its own police force from asking a detained person their immigration status. The goal is to prevent "sanctuary city" policies like those practiced in San Francisco or New York City, where municipal funds or resources are withheld as a method of non-cooperation in the enforcement of federal immigration laws. AB 450 is on its way to the state Senate after passing the Republican-controlled Assembly on partisan lines.
SB 533, which inversely is on its way to the Assembly after a partisan passage in the state Senate, prohibits the distribution of photo IDs by local governments except for employment purposes. The IDs would have to be clearly marked to show they aren't to be used for voting. Those opposed to SB 533 say local IDs are needed for immigrants, the homeless, and other people who have a hard time obtaining a state ID.
Luz Sosa, professor at the Milwaukee Area Technical College and organizer with Citizen Action of Wisconsin, said the point of the protest was to "let people know how much Latinos contribute to this state," in a Fusion interview.
"We're not going to stand by and be discriminated against and have our rights trampled on," Sosa said.
Don Niles, who owns a dairy farm, allowed some of his employees to take the day off with full pay in order to not lose his entire workforce to the festivities. In an interview with the Milwaukee Journal Sentinel, Niles empathized with their stance against the bills, which they see as sending a message they're unwanted in the state.
"That disturbs me very much because my employees are very welcomed," Niles said. "The vast majority of my workforce, with the exception of my family and two other people, are all from outside the United States originally."
According to the Journal Sentinel, 90 percent of Wisconsin's dairy farm workers are from Mexico.
Estimates of the day's protesting crowd ranged from 14,000 people as Fusion reported and 20,000 as WMTV reported, both citing the Madison Police Department.