South Carolina Gov. Nikki Haley endorses Marco Rubio for president
Published time: 17 Feb, 2016 22:00
Edited time: 17 Feb, 2016 23:24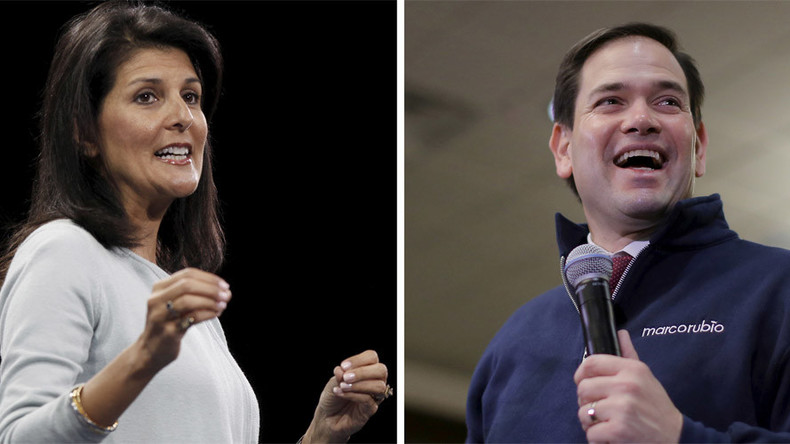 With only a few days to go until the South Carolina primary election, Senator Marco Rubio received the coveted endorsement from the state's governor, Nikki Haley.
Haley, who is the state's most popular republican, according to polls, endorsed Rubio at a 6:00pm Wednesday rally outside of Columbia. She is set to join the Florida senator on the campaign trail until the South Carolina primary on Saturday. Both Haley and Rubio are the children of immigrants.
The 44-year-old governor is reported to have chosen Rubio, also 44, as the strongest establishment pick to counter frontrunners Donald Trump and Ted Cruz.
Former Florida Governor Jeb Bush was also considered to be a top pick, as he helped Haley raise money for re-election in 2014, and said on Tuesday that Haley's endorsement would be critical.
"She is the probably the most meaningful endorsement," Bush said, according to CNN. He added that if he didn't get it, "it sends a signal that I got to work harder."
The endorsement could provide Marco Rubio with much-needed momentum after a fifth-place finish in the New Hampshire primary. Billionaire Donald Trump is currently leading in South Carolina with 38 percent support, according to a CNN/ORC poll released Tuesday. In second place is Ted Cruz with 22 percent and Rubio, followed by Rubio with 14 percent, Bush with 10 percent, Carson at 6 percent and Kasich at 4 percent.
Haley, who The New York Times reports is often mentioned as a potential Republican vice-presidential candidate, delivered the GOP response to President Obama's State of the Union address in January. While she took stabs at Obama, she also used the opportunity to make some implied attacks against Donald Trump.
"During anxious times, it can be tempting to follow the siren call of the angriest voices," Haley said during that speech. "We must resist that temptation. No one who is willing to work hard, abide by our laws, and love our traditions should ever feel unwelcome in this country."