'Robot Rubio' brigade says they were roughed up by Rubio campaign staff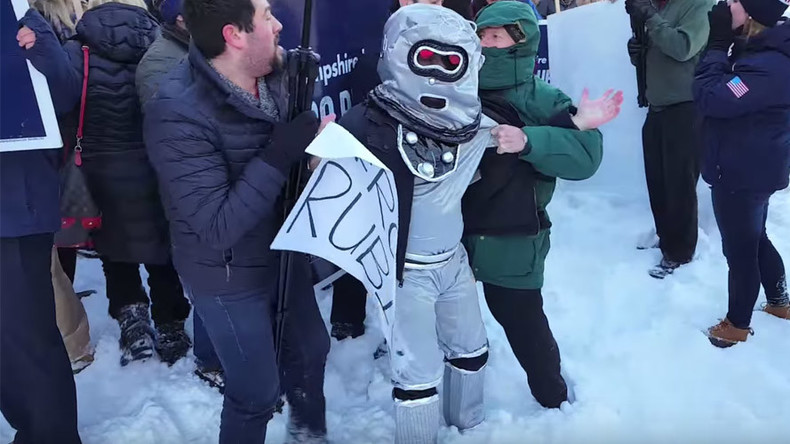 Demonstrators associated with progressive organizations dressed as robots and mocking presidential candidate Marco Rubio's recent debate performance, were not well received by the candidate's supporters and – allegedly – his staff in New Hampshire.
'Robot Rubio', 'Marco Roboto', and 'Rubio Talking Point 3000' were among the demonstrators who greeted the Florida Senator in Manchester, New Hampshire, on Tuesday as the state held its primary for the Republican and Democratic presidential nomination contests.
The robot meme associated with Rubio gained traction after the most recent Republican presidential debate, when Rubio repeated a seemingly rehearsed attack line against President Obama several times.
Eddie Vale, vice president of American Bridge 21st Century – a political action committee that supports Democratic candidates – dressed as 'Rubio Talking Point 3000' at the campaign event.
Vale tweeted about the harassment he and fellow 'robot' demonstrators, including fellow American Bridge employee Kevin McAlister, received from not only supporters of Rubio, but allegedly from the candidate's campaign staff as well.
A video released by American United for Change, another progressive organization, shows 'Robot Rubio' being shoved by the candidate's supporters.
The 'robot' is heard saying to the the main harasser, a man in a green coat: "Why do you have your hands on me? Look at all these cameras."
Americans United also tweeted a photo of 'Robot Rubio' walking near the candidate.
'Robot Rubio' told a New England Cable News reporter that he was "not with another campaign. I'm just myself here having a good time."
Meanwhile, the man in the green coat who shoved and pulled at 'Robot Rubio' can be seen holding hands and conversing with Rubio at the Manchester campaign stop, near the beginning of this Fox News clip.
While some of the harassers could have been campaign volunteers, Vale said he believed that others were "paid staff" that he had seen on the campaign trail.
You can share this story on social media: