2 planes clip wings on taxiway at Detroit airport
Published time: 17 Feb, 2016 15:35
Edited time: 17 Feb, 2016 17:35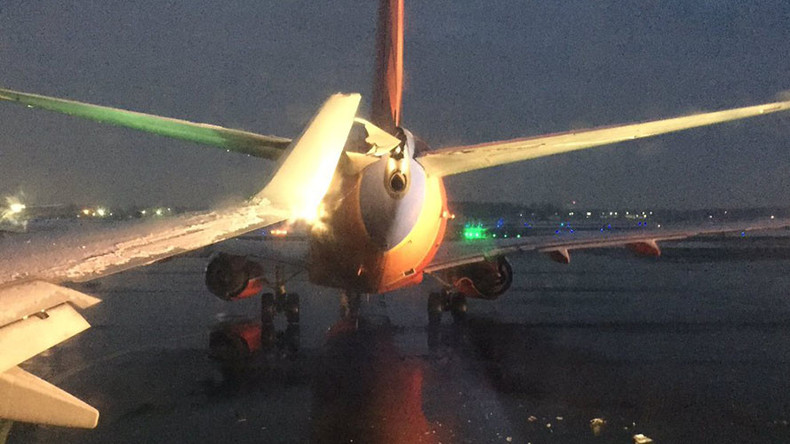 An American Airlines plane and a Southwest Airlines jet collided while the latter was being deiced on a frigid Detroit morning.
At around 6 a.m. local time on Wednesday, the wing of an American Airlines Boeing 737 hit the tail of a Southwest Airlines jet at Detroit Metro Airport in Romulus, Michigan. The American Airlines flight, bound for Dallas, was taxiing from the gate for takeoff, but struck a Southwest Airlines plane that was being deiced. The American Airlines flight had to return to the gate for inspection. No injuries were reported.
However, passengers were stuck on their planes for almost three hours, and were finally allowed to disembark at about 9 a.m. Several passengers tweeted about the fiasco of being stranded on the tarmac.
Airport spokesperson Mike Conway said representatives from the National Transportation Safety Board are headed to the airport to investigate.
Southwest Airlines issued a statement on Wednesday morning concerning the incident:
"Southwest Airlines flight 9 was in the process of being deiced this morning at Detroit Metropolitan Airport (DTW) when an aircraft belonging to another carrier came into contact with the Southwest aircraft's tail area. There are no reports of injuries, and the Southwest aircraft is now out of service for maintenance. The flight was scheduled to operate from DTW to Dallas Love Field (DAL), and the Southwest Team is in the process of accommodating customers on alternate flights. We appreciate the patience of our customers as we work diligently to get them safely to their final destinations."