No batteries: Army blames blimp fiasco on backup device
Published time: 17 Feb, 2016 00:16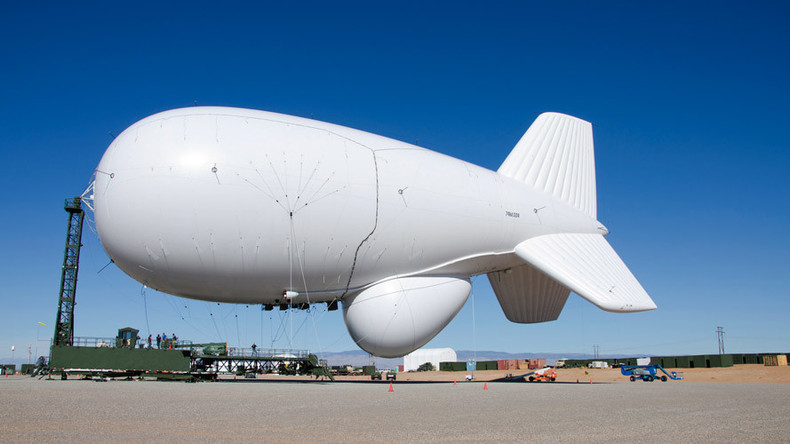 A trail of devastation left across two states by a runaway US Army blimp last fall could have been prevented had someone remembered to replace the batteries on a fail-safe device. Despite the fiasco, the Pentagon wants to keep the "zombie" program alive.
The experimental floating sensor platform, known as the Joint Land Attack Cruise Missile Defense Elevated Netted Sensor System (JLENS), was moored at the Aberdeen Proving Grounds in Maryland, supposedly keeping watch over the eastern seaboard. In October 2015, it got carried away by strong winds, drifting for 13 hours before eventually crashing in rural Pennsylvania. Some 35,000 people were left without power as the mooring cable severed power lines in the aerostat's wake.
The Pentagon has declined to release the full report into the affair, providing only a six-sentence summary that blamed "design, human, and procedural issues."
Military investigators cited multiple equipment failures as the cause of the incident, including the device designed to automatically deflate the aerostat – because someone had forgotten to replace the batteries.
The first piece of equipment to fail was a pitot tube, described as a narrow, 18-inch-long device intended to measure air pressure within the blimp. As the air pressure dropped, the JLENS turned against the wind and the mooring cable snapped.
At this point, a fail-safe device was supposed to deflate the aerostat and force it to land within two miles. It never happened.
"The lack of batteries prevented the automatic rapid deflation device from deploying," Michael Kucharek, a spokesman for the North American Aerospace Defense Command (NORAD) and the US Northern Command (NORTHCOM), told the Los Angeles Times.
Made by the defense giant Raytheon, the JLENS program has cost the taxpayers over $2.8 billion since 1998, according to the LA Times. Efforts to shut it down have been unsuccessful, leading critics to describe it to the paper as a "zombie" program.
Following the accident, the JLENS funding was cut by $30 million in the 2016 defense budget. The proposed 2017 budget envisions $45.5 million for JLENS, and only $6.7 million in 2018, after the experimental deployment at Aberdeen is scheduled to end.
At least one high-ranking military official wants to save the aerostat, however.
"JLENS provides unique cruise-missile defense capability to our integrated air defense system for the National Capitol Region. It is in the best interest of the nation to continue the program," NORAD and NORTHCOM chief, Admiral William E. "Bill" Gortney, said in a statement obtained by Defense News.