Driving while Periscoping: Drunk woman avoids jail after live streaming her crime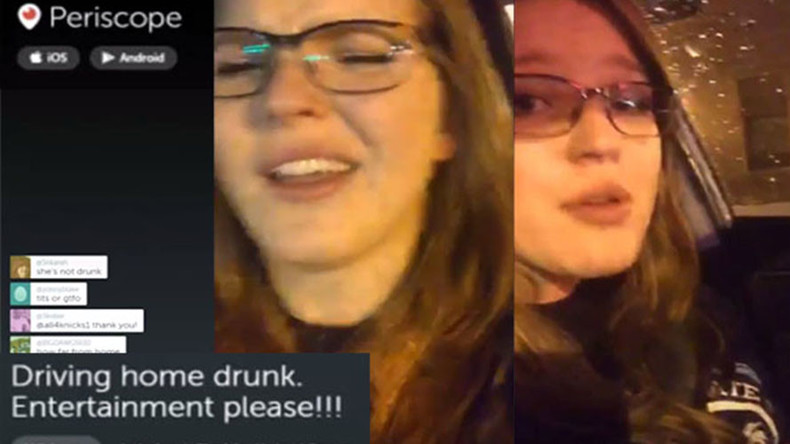 A Florida woman who streamed her drunken drive home on the live video platform Periscope avoided jail time after making a plea deal with officials.
It all happened last October after a night out in the city of Lakeland, when Whitney Beall 'broadcast' her 40-minute attempt to drive home titled, "Driving home drunk. Entertainment please!!!".

"I am drunk on South Florida Avenue, because I'm a drunk person," the 23-year-old said in the video, while later stating, "I'm driving home drunk, let's see if I get a DUI."
At various points in the video, a disorientated Beall can also be heard saying she's "drunk… f*cking drunk" as well as stating she was unaware of where she was several times.
"Driving drunk is not cool," Beall says through slurred speech. "This is bad, guys."
Dozens watched Beall journey home, including two police officers who had been alerted to her instant reality show by two viewers, while several viewers messaged Beall through the app telling her to stop.
"Fifty-seven people, oh I didn't know I'd get this many people [watching the live stream]," Beall said. "I am super drunk in the USA and the light is red."
READ MORE: NY judge arrested for DWI after crashing on way to court
Police officers downloaded the Periscope app and within twenty minutes were able to pinpoint Beall's location.
"Within minutes we found her driving, flat front tire, she hit the curb again and it was just obvious from that she was intoxicated," Lakeland Police Department Sgt. Gary Gross told WFLA at the time. "She went through the tests, she failed, and went to jail."
Police released dashcam footage of their sobriety tests following Beall's arrest to show how drunk she was when they reached her.
"I got to tell you I was a little shocked," Gross said. "After 30 years of law enforcement, I hadn't seen anything like this before."
Then again, Periscope was only launched less than a year ago.
As part of Beall's deal on Monday to avoid jail, she pleaded no contest to a charge of driving under the influence.
In News to Sicken You, woman who broadcast drunk driving spree on #Periscope won't spend any time in jail. So... yeah. #FOX35 NEXT.

— Sonni Abatta (@SonniAbatta) February 15, 2016
Sorry but if you periscope yourself drunk driving, you deserve to go to jail

— . (@mikefoxxx) October 13, 2015
Instead, she was sentenced to 12 months probation, ten days in a weekend work release program, 150 hours of community service, and a six-month suspension of her driver's license.
Beall also agreed to not visit any bars, although for what period of time has not been clarified. She will also have to pay more than $1,000 in court costs and fines.
Assistant State Attorney Lori Winstead said the sentence was given to Beall for having "publicly flaunting her disregard for safety of the community".