'We're fixing to lose to Clinton': GOP debate delves ever deeper into mudslinging & name-calling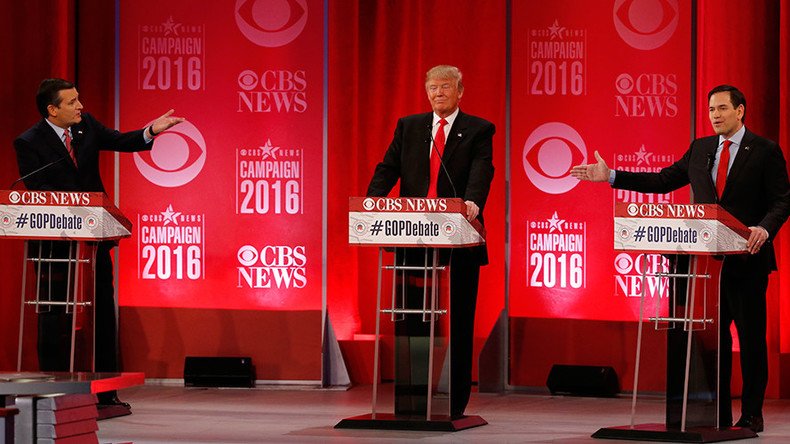 The Republican presidential debate in South Carolina was one of the bloodiest so far, with candidates repeatedly resorting to personal attacks and just plain insults. Trump and Bush clashed on foreign policy and integrity while Rubio and Cruz brawled over immigration.
One of the fiercest exchanges came when the Donald went after Jeb Bush's brother, President George W Bush, for his decision to go to war with Iraq in 2003, a decision Trump previously said merited an impeachment.
"George Bush made a mistake. We can make mistakes. But that one was a beauty. We should have never been in Iraq. We have destabilized the Middle East," Trump said, adding that it took Jeb Bush five days after his nomination announcement to acknowledge it.
"They lied. They said there were weapons of mass destruction, there were none. And they knew there were none. There were no weapons of mass destruction," Trump said.
Bush took the jab personally and compared Trump to the big Republican boogey-man, President Barack Obama, who, he said, blamed his problems on George W.
"I could care less about the insults that Donald Trump gives to me. It's blood sport for him. He enjoys it. And I'm glad he's happy about it," Jeb Bush retorted. "I am sick and tired of him going after my family. My dad is the greatest man alive in my mind. And while Donald Trump was building a reality TV show, my brother was building a security apparatus to keep us safe."
"The World Trade Center came down during your brother's reign, remember that," Trump responded, as the audience burst into a chorus of booing.
The shout-out went further down the slope as Bush said Trump "has had the gall to go after my mother," and Trump suggested that Barbara Bush should be running for the presidency instead of Jeb.
Trump and Bush had several other rounds of no-punches-pulled fighting during the 90-minute debate. First they clashed on whether Russia can be trusted to fight Islamic State (IS, previously ISIS/ISIL) alongside the US, with Bush claiming that "the very basic fact is that Vladimir Putin is not going to be an ally of the United States."
"Russia is not taking out ISIS. They're attacking our team, the team that we've been training and the team that we've been supporting. It is absolutely ludicrous to suggest that Russia could be a positive partner in this," Bush said.
"Jeb is so wrong," Trump said. "That's Jeb's special interest and lobbyist talking."
"We're supporting troops that we don't even know who they are," he added.
In yet another spat, Trump called Bush the "weakest person on this stage by far on illegal immigration" over his position on illegal immigration and calls for more compassion on the issue.
Bush parried: "It's weak to disparage women. It's weak to disparage Hispanics. It's weak to denigrate the disabled. And it's really weak to call John McCain a loser because he was a POW."
While the Trump-Bush exchanges dominated the hotter part of the debate, Marco Rubio and Ted Cruz found a moment to clash spectacularly on immigration. Cruz criticized Rubio's immigration reform bill, which he co-sponsored with Senator Chuck Schumer of New York, and accused the Florida senator of supporting an amnesty for illegal immigrants.
"Marco went on Univision in Spanish and said he would not rescind President Obama's illegal exclusive amnesty on his first day in office," the Texas senator said.
"I don't know how he knows what I said on Univision because he doesn't speak Spanish," Rubio shot back.
Cruz responded in Spanish: "My friend, if you want to tell them now, tell them now in Spanish."
Rubio continued his attack: "For a number of weeks now, Ted Cruz has just been telling lies. He lied about Ben Carson in Iowa. He lies about Planned Parenthood. He lies about marriage. He's lying about all sorts of things. And now he makes things up."
There were several smaller heated exchanges and insults traded. Ohio Governor John Kasich, who once or twice tried to tone down the language to a more civilized level, summed it up.
"I think we're fixing to lose the election to Hillary Clinton if we don't stop this," he said.
His call fell on deaf ears.
You can share this story on social media: