Apollo 11 interior writing, markings revealed for first time (PHOTOS)
Published time: 12 Feb, 2016 18:41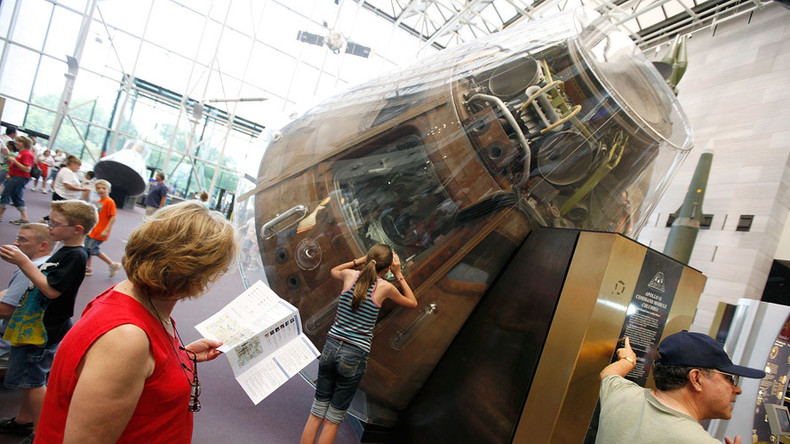 Astronaut writing on the interior walls of the Apollo 11 Command Module Columbia is being revealed to the public for the first time since the 1969 mission that put man on the Moon.
Museum-goers can currently look inside the 10-by-12-foot capsule but are not allowed to enter. So the markings, written in both pen and pencil by astronauts, have been hidden away until now.
The Apollo 11's Columbia module is being scanned for a 3-D digitization project that will include "notes, figures and a calendar presumably written by the Apollo 11 astronauts during their historic flight to the moon," according to the Smithsonian National Air and Space Museum, where the craft has lived since 1976.
"They can be seen by the human eye if you were to go into the Command Module, which of course no one can normally do. We were able to take these photos because we allowed one of our conservators to go in, very strategically and carefully," a representative of the National Air and Space Museum told NPR.
Astronauts Buzz Aldrin, Neil Armstrong, and Michael Collins manned the capsule during the 1969 mission to the Moon, recording notes and figures near navigational tools during the flight.
The markings were eventually relayed to mission control, the Smithsonian said.
A hand-written calendar is also present, which each day from July 16-23 marked out. The last day of the mission, July 24, when Columbia returned to Earth, is not crossed off.
"As curator of what is arguably one of the most iconic artifacts in the entire Smithsonian collection, it's thrilling to know that we can still learn new things about Columbia," said Allan Needell, curator of space history at the Air and Space Museum in Washington, DC. "This isn't just a piece of machinery, it's a living artifact."
The museum's 3-D Digitization Program is scanning the craft to create a high-resolution interactive model of the Columbia, allowing researchers and the public to view and explore the craft in ways previously unimaginable. The model is scheduled to be available at 3d.si.edu in June, the Smithsonian said. An interactive display at the Air and Space Museum is expected to open by 2020.