#StandWithPerry backlash after Princeton police release dashcam footage of black professor's arrest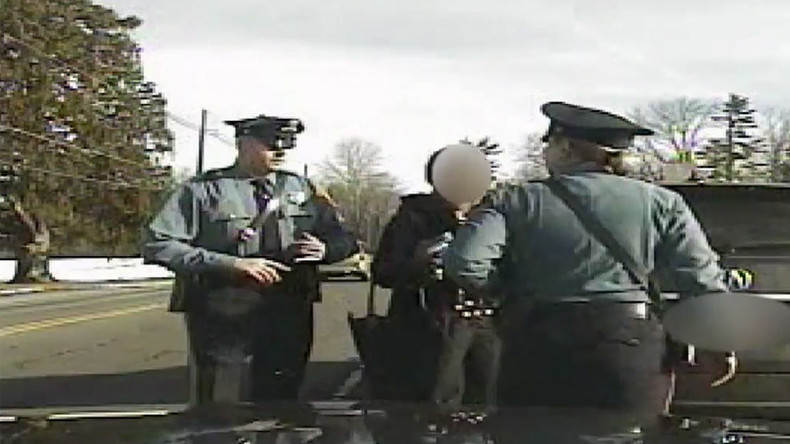 The Princeton Police Department in New Jersey has released dashcam footage of the controversial arrest of a black Princeton professor during a traffic stop last week, following a social media storm over the incident.
Imani Perry, a professor of African-American studies, claimed she was mistreated because of her race by two white (one male, one female) police officers who searched her and handcuffed her to a table.
Perry also complained the male officer carried out a "body search" even though a female officer was present.
The dashcam video shows police approach Perry, explain her arrest, and tell her they have to put her in handcuffs. Police have not released footage, however, from inside the station where Perry claims she was handcuffed to a table.
Princeton Police Department chief, Captain Nicholas K. Sutter, told the The New York Times that he watched the footage and found nothing unusual, adding that the two officers had followed policy during the arrest.
Sutter said Perry was arrested Saturday morning for driving at 67mph (107kph) in a 45mph zone. During the subsequent routine check, officers found Perry's driving license had been suspended and a warrant issued for her arrest over two unpaid parking violations from 2013.
The professor had claimed in a detailed Facebook post Monday that she was arrested for a single "three-year-old parking ticket".
"The fact of my blackness is not incidental to this matter," she wrote on Facebook.
"If it is the norm to handcuff someone to a table for failing to pay a parking ticket, we have a serious problem with policing in the society. If it is not the case that this is the general practice, then I hope everyone reading will consider the possibility that the way I was treated had something to do with my race, and that we have a serious problem with policing in this society particularly with respect to Black people."
Perry's Facebook post and tweets about the incident generated huge interest online, with many demonstrating their solidarity with her by using the hashtag #StandWithPerry.
However, Perry also drew criticism for her comments about the arrest, and again following the release of the dashcam footage.
READ MORE: Black people in Florida ticketed twice as often as whites for seat belt violations – ACLU
You can share this story on social media: