Zika virus linked to miscarriages in two US women – CDC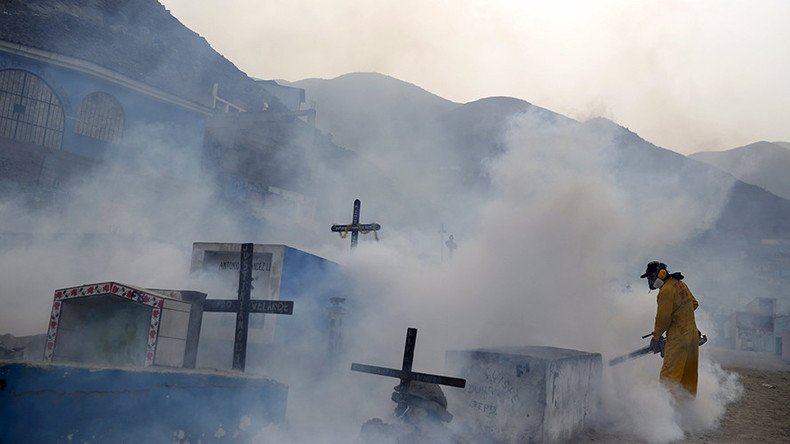 Two American women who contracted the Zika virus while traveling abroad miscarried after returning home, the Centers for Disease Control said on Thursday.
The Washington Post reports that "It's absolutely possible for an infection, whether it be viral or bacterial, to result in a miscarriage," according to Zev Williams, an OB-GYN at the Albert Einstein College of Medicine at Montefiore Medical Center in New York.
While miscarriages have previously been reported abroad, these are the first linked to Zika that have been reported in the United States.
"We are quite literally learning more about Zika every single day," Frieden told the House Foreign Affairs Subcommittee on Africa, Global Health & International Organizations.
Meanwhile, researchers in Salvador, Brazil are checking miscarriages and still births at three maternity hospitals for links to Zika. In addition, researchers from Slovenia discovered traces of Zika in a fetus whose mother was infected with the virus, Gizmodo reports.
The 25-year-old woman in that case had been a volunteer in Brazil and contracted the virus when she was 13 weeks pregnant. Later in her pregnancy, she received ultrasounds that revealed a small fetal head and other abnormalities seen in Zika cases. After consulting with national and hospital ethics boards, the Slovenian woman chose to abort the fetus.
An autopsy revealed that particles of the Zika virus and a significant amount of viral genomic RNA were present in the brain, but not other organs.
"The findings of this case report do not provide absolute proof that Zika virus causes microcephaly," Eric J. Rubin, associate editor of the New England Journal of Medicine said, but added that it "makes the link stronger."
While the US desperately works to learn more about Zika, women in countries affected by the outbreak are struggling to find support. Refinery 29 reports that governments in Brazil, Colombia, Jamaica, El Salvador, and Ecuador are advising women to avoid getting pregnant for the next two years.
However, roughly 97 percent of women of childbearing age face "highly restrictive" abortion laws in those Latin American and Caribbean nations, according to the Guttmacher Institute, a non-profit organization that promotes reproductive health through birth control. In fact, El Salvador is one of seven nations in the world that have completely banned abortion.
Despite the restrictions, some 4.4 million abortions were performed in Latin America in 2008, according to Guttmacher. Some reproductive-rights advocates are concerned that the Zika outbreak may prompt an increase in abortions, particularly unsafe ones. Sara García, an advocate for women's reproductive rights in El Salvador, told Refinery 29 that, "Women in the region are having abortions; they're just having them in an unsafe and clandestine manner."
You can share this story on social media: