Massive California methane leak temporarily plugged, but more work awaits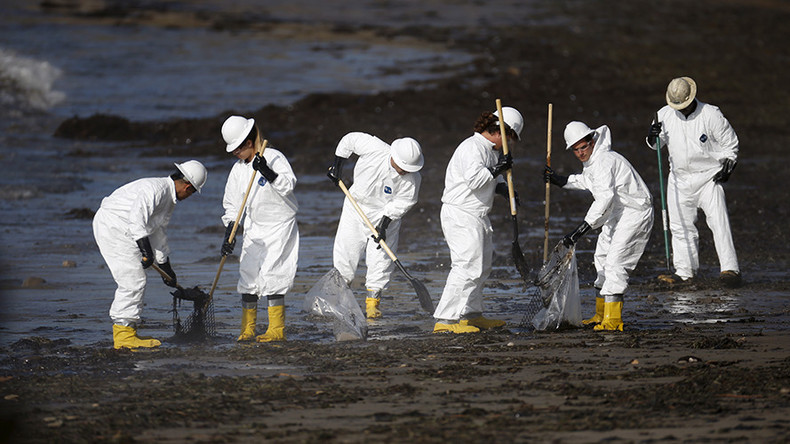 The Porter Rancher gas leak has been temporarily capped, according to the Southern California Gas Company. The leak has forced thousands to leave their homes since being discovered in October.
The company has "temporarily controlled the natural gas flow from the leaking well and begun the process of sealing the well and permanently stopping the leak," Jimmie Cho, senior vice president of gas operations and system integrity at Southern California Gas, said in a statement.
According to the LA Times, the gas company said that using a relief well to pump "heavy fluids to temporarily control the flow of gas out of the leaking well" is the first step in blocking the leak. Officials say that cement must be poured to permanently plug it.
However, fixing the gas leak is only the first step in recovering from the "mini-Chernobyl," as the LA County supervisor called the incident. The leak began on October 23, pouring 62 million cubic feet of methane into the air daily, the Environmental Defense Fund estimated.
Paula Cracium, president of the Porter Ranch Neighborhood Council, told the LA Times that capping the leak changes the situation "from a controlling the crisis to now navigating recovery. Homeowners have been injured. Property values have been injured."
The extent of the damage has yet to be determined. The well has been releasing methane, a greenhouse gas more powerful than carbon dioxide, and experts warn that this could contribute significantly to global warming.
The leak has displaced over 4,400 households in Porter Ranch, the LA Times Reports. Once the leak has been officially fixed, the relocated residents will have seven nights to move back into their homes, as per the terms of an agreement reached between the gas company and the LA city attorney's office, under which the ousted residents are compensated for living elsewhere.
While residents may be excited at the propspect of returning home, Representative Brad Sherman (D-Porter Ranch) is looking to extend the period that homeowners can take before moving back into their houses to ensure that the California Air Resources Board certifies that the air in the neighborhood is free of natural gas.
You can share this story on social media: