'I think I hit a person': Speeding US patrol officer in dashcam video (GRAPHIC)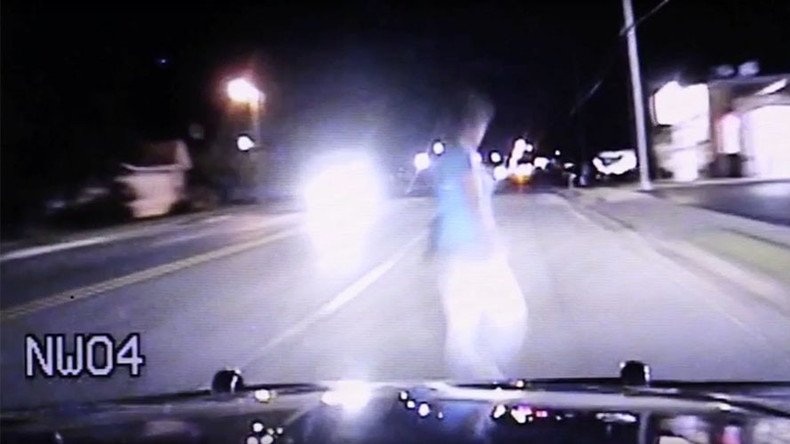 The prosecutor's office in Berrien County, Michigan, has released a highly dramatic dashcam video from a police cruiser that hit a female pedestrian crossing the street. The police car was speeding, and had neither lights nor siren activated, witnesses said.
"I need an emergency unit to my location. I think I hit a person," Benton Township patrol officer Eugene Anderson informs radio dispatchers on the video just moments after the sound of smashing glass and a loud bang is heard as his police cruiser hits a woman.
Based on a squad car video, witness reports and a physical investigation of the scene, Anderson, who was responding to a domestic violence call, was traveling at 64 mph in a 35 mph zone when his car struck the woman, the Herald Palladium reported.

Kimberly Bedford, 48, who was crossing the road at 9 p.m. Sunday, died at the scene. The incident took place in September.

Anderson's lawyer, Martin Kirk, called witnesses, who testified that Bedford was seriously drunk and was allegedly walking in the road with no regard for traffic. The lawyer argued that there was no reliable evidence proving that the patrol officer was traveling at 60 mph.

Berrien County Prosecutor Michael Sepic ruled that while Bedford did violate pedestrian rules by stepping into traffic, Anderson was still to blame.
"We're not here to judge his whole person," Sepic said, according to the Herald Palladium. "If an officer chooses to speed without lights and siren, then he has to accept responsibility for his actions."

As for the defense claim that cops, when on a call, can be distracted by their oscillating lights and siren while driving, Sepic told the jury:
"If an officer is distracted by oscillating lights and a siren, I think he'd better find another job."
READ MORE: Cop seeks $10mn from family of black teen he killed, claims he's 'traumatized'
Last week the former patrol officer was found guilty of causing the woman's death. Anderson faces up to a year in jail, with a sentencing date yet to be set.
You can share this story on social media: