Hillary Sanders? Clinton singing Bernie's tune on banks, campaign finance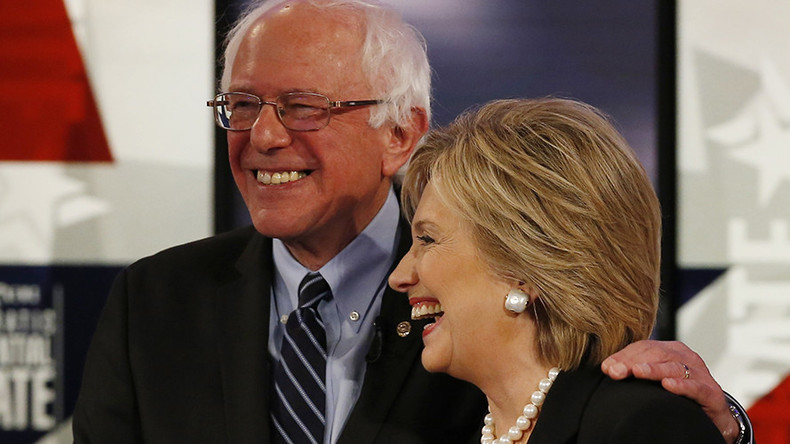 Hillary Clinton lost the New Hampshire primary vote, but her concession speech sounded like that of a winner, specifically the one who had just defeated her: Bernie Sanders. On the issues of big banks and campaign finance reform, the echo was clear.
"Senator Sanders and I both want to get secret unaccountable money out of politics," Clinton told supporters on Tuesday night after results showed her coming in at a distant second place.
"We also agree that Wall Street can never be allowed to once again threaten Main Street," she added before proclaiming herself to be the only one who "know[s] how to do it."
New Hampshire polls consistently showed Senator Sanders leading the former State Department secretary by 15 points, and as primary election day neared, a consensus became apparent among some Clinton supporters and political pundits that if she could only lose by single digits, that could be considered a relative victory.
In the end, Sanders improved upon his lead in the polls, beating Clinton by a margin of 22 percent. Her concession speech took the next logical step, tacitly acknowledging tougher talk on big banks and campaign finance reform as the winning message.
"No bank can be too big to fail, and no executive too powerful to jail," Clinton said to cheers, following up with a shift to money in politics. "You're not going to find anybody more committed to aggressive campaign finance reform than me."
The speech did not simply represent a change in tone for Clinton, but a fundamental change in priorities on the issues. Only a week earlier, after a virtual tie in Iowa Caucus votes, Clinton's victory speech was front loaded with her positions on universal health care, climate change, education, and gun control.
Even as recently as the February 4 New Hampshire Democratic debate, Clinton espoused views that she ultimately deviated from in the concession speech.
"You will not find that I ever changed a view or a vote because of any donation that I ever received," Clinton said in response to Sanders alluding to her campaign's acceptance of Wall Street money. There was no talk from Clinton of "aggressive campaign finance reform" during the debate, but there was after the primary results were announced.
One element of her Tuesday night speech that remained consistent with her debate remarks was her claim to be the most reliable guarantor of progress.
"Now, people have every right to be angry, but they're also hungry," Clinton told supporters in her concession speech. "They're hungry for solutions. What are we going to do? That is the fight we're taking to the country. What is the best way to change people's lives, so we can all grow together? Who is the best changemaker?"
That was not the message Clinton brought to New Hampshire back in September, when the state Democratic Party convention was held. There, she harkened back to her husband Bill Clinton's presidency, when she said incomes of all levels had risen. She also praised President Barack Obama, who "curbed Wall Street abuses," without going into any details on what regulations should be imposed next.
Sanders, meanwhile, is not likely to let voters forget that Clinton favored bank bailouts before she campaigned against them.
Back in 2008 at the height of the financial crisis, Clinton, running for the Democratic presidential nomination against then-Senator Obama, couched her support for impending bank bailouts in criticism directed towards the Bush administration.
"I believe that such an intervention demands that we fundamentally alter the priorities and policies of our nation under the Bush administration that allowed this crisis to take place and escalate," she said at the time. "Corporations that will benefit must be held accountable not only to large shareholders but also to the American people.
In contrast, Sanders voted against the bank bailouts, also citing accountability to the American taxpayer.
Clinton also went further Tuesday night, not shying away from racially charged issues. As Black Lives Matter supporters have splintered their support, mostly going for Sanders, if for any candidate, Clinton promised to "break through the barriers of bigotry."
"African-American parents shouldn't have to worry that their children will be harassed, humiliated, even shot because of the color of their skin," she said, following up with denunciations of alleged institutional challenges facing immigrants, the LGBT community, and working women.
"I know I have some work to do, particularly with young people," Clinton said. "Even if they are not supporting me now, I support them, because I know I have had a blessed life, but I also know what it's like to stumble and fall."
Clinton went on to express gratitude to the "more than 700,000 people" who donated to her campaign online, thanking "the vast majority giving less than $100," another similar talking point to what is heard in Sanders' stump speeches.
"I know that doesn't fit with the narrative," Clinton told her supporters.
You can share this story on social media: