Trump, Sanders blow away rivals in New Hampshire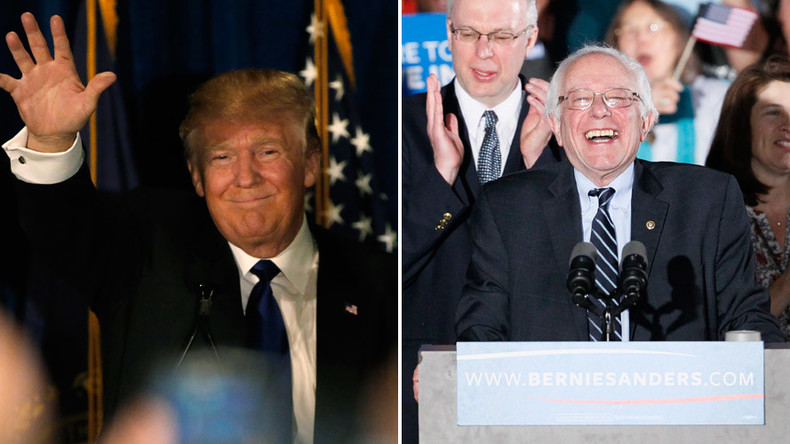 Billionaire Donald Trump and Senator Bernie Sanders easily swept to victory in the New Hampshire primaries, buoyed by voters clamoring for change in American politics and politicians not backed by Wall Street contributors.
Trump and Sanders entered New Hampshire as the favorites in their respective party races, the Republican and Democratic primaries. Trump appealed to conservative voters looking for a political outsider, while Sanders led with a strong following among young voters keen for a change in government as usual.
READ MORE: Primary primer: New Hampshire's 'First in the nation' tradition
Basking in his victory, Trump said that America is "going to start winning again" under his leadership
Trump repeated much of what he has already said in his stump speeches, including his proclamation that "We are going to make America great again."
"We are going to beat China, Japan, Mexico, all three countries that are taking so much money from us on a daily basis," he said, adding later that, "We are going to build a wall."
He pledged to rebuild the military into something "so big, so powerful, nobody is going to mess with us," and to "make deals for the American people" and "take care of our vets."
"I am going to be the greatest jobs president that God ever created. Remember that!"
With more than 75 percent of Republican precincts reporting, Trump had captured 34.5 percent of the vote, with John Kasich at 16.3 percent, Ted Cruz capturing 11.5 percent, and Jeb Bush with 11.2 percent.
For the Democrats, Sanders had won 59.7 percent of the vote and Hillary Clinton claimed 38.6 percent, with more than 75 percent of the precincts reporting.
"Together we have sent the message that will echo from Wall Street to Washington, from Maine to California. And that is that the government of our great country belongs to all of the people and not just a handful of wealth campaign contributors and their super PACS," Sanders said at his victory rally.
He also touched upon his main campaign points, insisting that "the American people will not accept a corrupt campaign system and we will not accept a rigged economy"
However, Sanders warned his supporters that their victory was only one in a long road. "They've thrown everything at me except for the kitchen sink," he said, referring to the Democratic establishment, "and I have a feeling that the kitchen sink is coming soon."
Clinton addressed her supporters alongside former President Bill Clinton and their daughter Chelsea. She congratulated Sanders and acknowledged that she has "some work to do" to generate support.
"I know I have some work to do, particularly with young people, but ... even if they are not supporting me now, I support them," she said. "Because I know, I've had a blessed life, but I've also known what it's like to stumble and fall. It's not whether you get knocked down that matters. It's whether you get back up."
Clinton argued that she, not Sanders, is the "best change maker."
"Here's what I promise: I will work harder than anyone to actually make the changes to make your lives better."
Back on the GOP side, Ohio Governor John Kasich surprised many by finishing in second place. Kasich emerged from a pack of candidates that included Jeb Bush, Texas Senator Ted Cruz, who won the Iowa Caucus, and Florida Senator Marco Rubio.
"Tonight the light overcame the darkness of negative campaigning," Kasich told supporters to loud applause. "And you made it happen. You made it happen."
"When the media said how are you going to do this? Can you finish high? I said I have an insurance policy. It's you! It's all of you."
Kasich's campaign manager told AP he expects an increased flow of contributions following the strong showing.
You can share this story on social media: