Primary primer: New Hampshire's 'First in the nation' tradition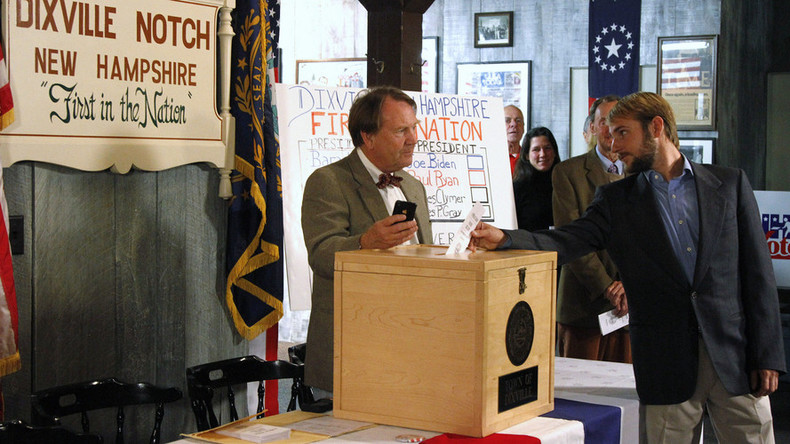 As New Hampshire voters head to the polls for the first primary in the 2016 US presidential election tonight starting at midnight, RT brings you this handy primary primer for those who are still in a thick New England fog when it comes to how it all works.
CAUCUS vs PRIMARY
New Hampshire's primary is different to Iowa's Democratic caucus as it involves secret voting in a booth, just like most ordinary elections.
The delegates chosen will serve at the national conventions this July where the nominee is officially selected.
A primary is organized by the state board of elections, as opposed to the parties themselves.
READ MORE: Caucuses are awesome: Iowa's unique process explained with Lego
In New Hampshire, each town sets its own times to vote.
Three towns will vote just after midnight on Tuesday morning - Dixville Notch, Hart's Location, and Millsfield.
Other areas normally begin voting at 7 a.m.
New Hampshire voters may deliver a record turnout with NH Secretary of State Bill Gardner predicting 550,000 citizens heading to the polls.
A LOOK AT THE POLLS
Unlike the tight race in Iowa, polls in New Hampshire show a big lead for the two front-runners.
The latest polling aggregated by Real Clear Politics reveals Democratic presidential candidate Bernie Sanders is leading by a range of 10-23 points against his main opponent, former Secretary of State Hillary Clinton.
On the Republican side, the man who took second place in Iowa, billionaire Donald Trump, is leading by a range of 14-22 points with Iowa winner Ted Cruz, Ohio governor John Kasich, Florida senator Marco Rubio, and former Florida governor Jeb Bush in a battle for second.
CANDIDATES OUT AND ABOUT
This West Wing episode exemplifies the kind of retail politics and micro-issues the candidates face on the campaign trail.
Here now, in alphabetical order, are some highlights from their final weekend of pounding the pavements (and dirt roads) of New Hampshire.
Jeb Bush
Ben Carson
Chris Christie
Hillary Clinton
Clinton is in Michigan on Sunday, but husband Bill has been campaigning for her.

Ted Cruz
Carly Fiorina
John Kasich
Marco Rubio

Bernie Sanders
Donald Trump
You can share this story on social media: