Despite Bernie's landslide victory, Hillary receives more New Hampshire delegates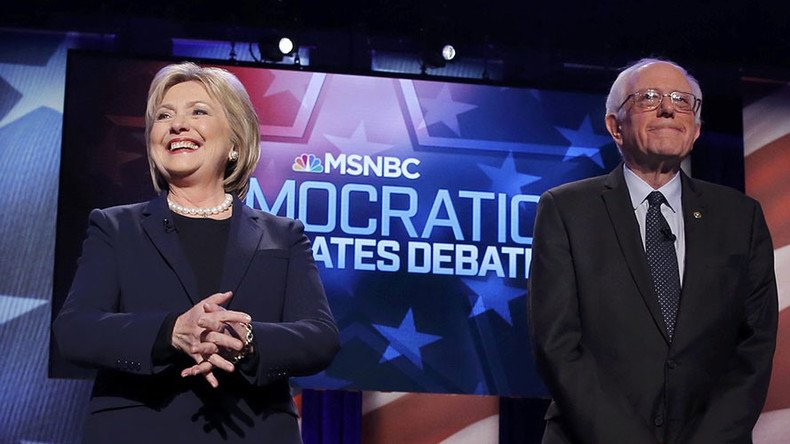 Bernie Sanders defeated Hillary Clinton in New Hampshire's primary with 60 percent of the vote, but that's not the end of the story. Because of a peculiarity in the Democratic Party's nominating system, Clinton will likely receive more delegates from the state.
New Hampshire has 24 pledged delegates that are assigned based on the proportion of the popular vote received. Sanders received 60 percent of support in New Hampshire's Democratic primary, giving him 15 pledged delegates. Hillary Clinton received 38 percent of the votes, putting her pledged delegate count at nine.
READ MORE: Trump, Sanders blow away rivals in New Hampshire
This seems simple enough, but Democratic National Committee's method of assigning delegates complicates the matter. There are eight "superdelegates," party officials that are free to support any candidate they please – even if that support does not align with the wishes of voters. Six of those superdelegates have committed to Clinton, giving her a total of 15 delegates from New Hampshire as of Wednesday afternoon. The two remaining superdelegates have not committed for either candidate yet.
Q: Sanders got 146k votes in NH, Clinton got 93k; yet she will get 15 delegates, and he only 13. Why?
A: Fairness.

— David Burge (@iowahawkblog) February 10, 2016
Bernie beat Hillary by 22% but she'll break even in New Hampshire because of SuperDelegates. That is not democracy. The system is rigged.

— John Dardenne (@johndardenne) February 10, 2016
Clinton had a razor-thin victory in Iowa followed up by a crushing defeat in New Hampshire, putting her pledged delegated of 32 behind Sanders's 36. However, Clinton has an imposing lead over Sanders thanks to her 45-to-1 superdelegate advantage. She now has 431 delegates of all types supporting her, while Sanders only has 52, according to CNN.
There are 712 superdelegates in the DNC primaries. A Democratic presidential candidate needs 2,383 delegates of any type out of the 4,763 total to win the nomination.
You can share this story on social media: