I can haz wild kitty? Ohio Supreme Court asked to rule on bobcat ownership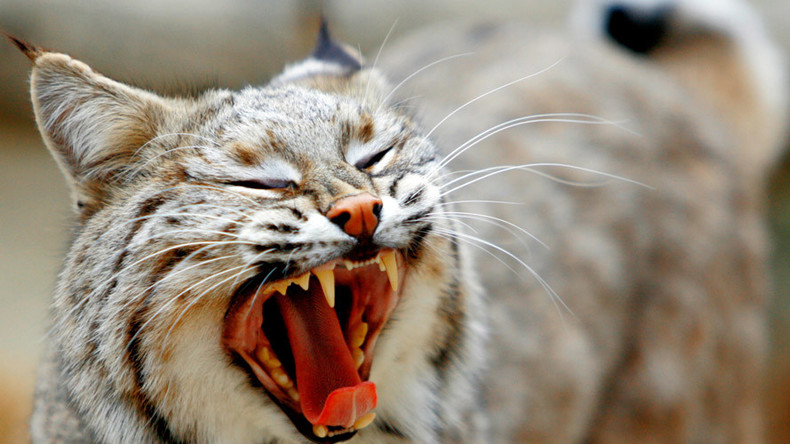 The Ohio Department of Natural Resources has asked the state Supreme Court to decide whether a man can continue to own a bobcat without conforming to a state law that mandates special regulations for so-called 'dangerous wild animals.'
The state has called for the Ohio Supreme Court to rule on the case, arguing that an appeals court decision that sided with the bobcat owner "undermines the laws regulating dangerous wild animal ownership."
"The uncertainity ... will endanger the public by making owners of dangerous wild animals less willing to comply with the standards governing their care and caging," the state's filing to the Supreme Court said, according to the Columbus Dispatch.
Adam Federer, a police detective in Columbus, Ohio, has claimed his 26-pound bobcat is "domesticated" and does not leave his house. Since 2003, Federer had maintained a proper license from the state Department of Natural Resources (DNR) to keep the bobcat. Yet in 2012, state lawmakers passed the Dangerous Wild Animals and Snake Act, which effectively heightened standards for owning various "dangerous wild animals" as defined by the law.
In 2014, Federer was denied a DNR license for the bobcat. Upon appeal, a DNR official said bobcats fall within the scope of the 2012 law given it includes lynxes as a dangerous wild animal, and bobcats are a species of the lynx genus.
Yet Federer contested the decision, saying the 2012 law does not specifically include bobcats. In January 2015, the Franklin County Court of Common Pleas sided with Federer, finding that the law used common names for targeted animals, omitting bobcats in the process. All animals in the lynx genus are not implicated in the law, the court said.
In December 2015, upon appeal by DNR, the Franklin County Court of Appeals reaffirmed the lower court's decision, saying the 2012 law only offers common names and not entire genus classifications. Furthermore, the appeals court echoed the lower court in pointing out that Scott Zody, chief of the division of wildlife at DNR, was head of a task force that offered recommendations to the state legislature regarding what wild animals should be considered dangerous in the law eventually passed in 2012. Zody testified that the task force did not recommend bobcats to be included in the list. The state has argued that lawmakers ignored or altered some of the recommendations
To maintain a "dangerous wild animal," as outlined in the 2012 law, an Ohio resident must apply for a permit with the state Department of Agriculture. The law states that owners of such animals, including tigers and alligators, must adhere to a host of rules, some of which would likely result in high costs for the owner.
The 2012 law came about after a Zanesville-area man released his collection of exotic animals before he committed suicide in October 2011. The 48 animals included lions, bears, tigers, wolves, camels, and giraffes. Authorities subsequently hunted and killed the freed animals.
DNR told the Columbus Dispatch it does not comment on pending lawsuits. Federer's lawyer did not respond to the Dispatch's request for comment.
You can share this story on social media: