Menagerie tragedy: Ohio draws the lion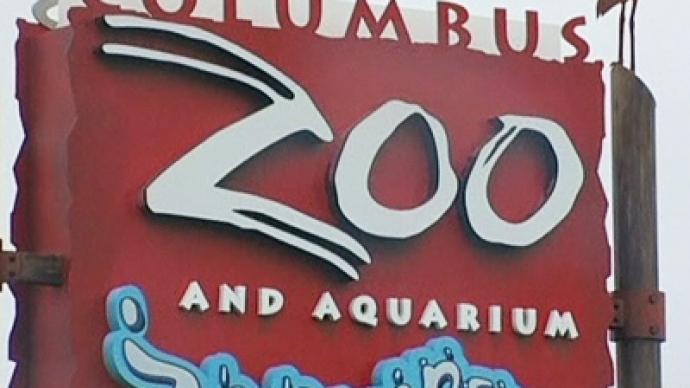 ­Police from the US Ohio state have reported 48 out of 56 rare wild animals that were freed from local private zoo have been shot down. The only two beasts still at large are a wolf and a monkey. Animal activists mourn the loss of so many creatures.
Among the murdered animals were 18 Bengal tigers, 17 lions, eight bears and a wolf, informed Sheriff Matt Lutz, as quoted by the Associated Press. The local authorities said the missing monkey would be shot if caught because it could be carrying a disease. Several schools remain closed to keep children out of harm's way. However, the sheriff believes the danger to residents has passed and that schools can reopen."We also were able to transport six animals to the Columbus Zoo. One of those was a grizzly bear. There were three leopards and two monkeys," Lutz added. Throughout the past two days, local emergency services received warning calls from the citizens of Ohio."Yeah, I just think I seen one [sic]. Look like a jaguar or a wolf or something. It was over in my in-laws' yard. As soon as I opened the door it took off," reads the transcript of one registered call from an unidentified resident. "Umm, [a lion] is about half a mile off [highway] 40. There is a big horse barn on the right. I just drove by and it walked out in front of me and it was standing there under the street light," another resident informed the emergency service. While at present Ohio citizens can put away their fears, animal rights' protectors can only shake their heads after so many exotic animals were shot dead."I can understand people's concern. They are calling me from England, all over Canada, all over the world asking me why we had to kill the animals," said Jack Hanna, former director of the Columbus Zoo and a nationally-known wild animal expert."It is beyond a bad dream, this is beyond anything that has ever happened to me in my 45 years of doing this," Hanna added, though conceding that authorities had no other choice under the circumstances – people's lives took precedence in this case.Given that there are fewer than 1,400 Bengal tigers left in the world, the loss of those 18 animals from the Ohio preserve is sustainable. In 20 years, the Bengal tiger will be gone in the wild, claimed Mr. Hanna, adding there are now more tigers of the kind in zoological parks than in the wild. A small town in Ohio went under lockdown after a private zookeeper apparently committed suicide after releasing dozens of dangerous, exotic animals from their enclosures.Terry Thompson of Zanesville, Ohio, was found dead by authorities at the animal preserve he had operated. Officials approached his body when arriving on the scene, but were met by several aggressive animals which they shot and killed.Thompson had only recently been released from federal prison after serving a year on weapons charges. Investigators add that he had been the subject of several probes in the past for reports of animal abuse and neglect. He reportedly died of a self-inflicted gunshot wound, and was subsequently bitten. This may have served as some sort of revenge by Thompson on the residents and police of the town, Sheriff Lutz believes.
You can share this story on social media: