4 votes for the win! Bernie Sanders receives 100% of Democratic ballots in tiny NH town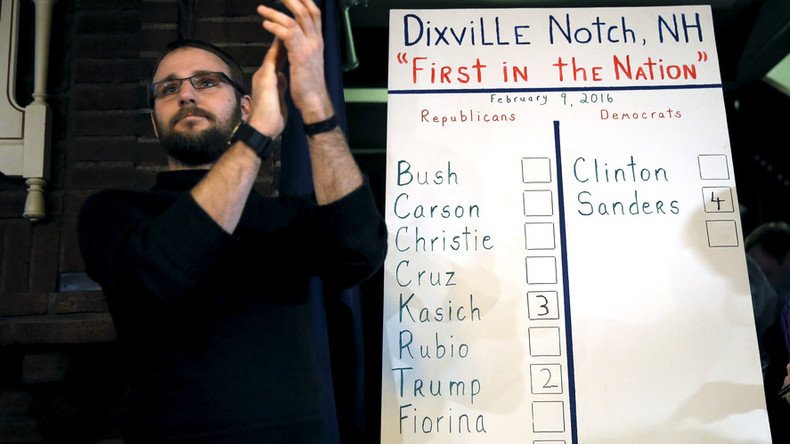 Bernie Sanders managed a landslide victory over Hillary Clinton after residents of a New Hampshire town cast their ballots for the Democratic presidential primary – even though he only received four votes. Well, Dixville Notch only has nine residents.
Although four votes many not seem like much, they represent 100 percent of the Democrat voters in the small town, about 20 miles (32km) from the Canadian border.
The ballots represented some of the very first in the New Hampshire primary. Under state law, communities with fewer than 100 voters can get permission to open their polls at midnight and close them as soon as all registered voters have cast their ballots.
For such a tiny town, Dixville Notch is a media hotspot during presidential elections, with residents casting their ballots at the Balsams Grand Resort Hotel. The votes usually take place in the hotel's 'Ballot Room,' but renovations forced the event to take place in another room this year.
The town is also known for its record of correctly predicting the eventual Republican nominee in every election since 1968, according to NPR.
Although it receives the most media attention, Dixville Notch wasn't the only small community to cast midnight votes. In fact, there were three.
Sanders managed a 12-7 win over Clinton in Hart's Location, which has a whopping 41 voters.
However, Clinton beat Sanders 2-1 in Millsfield, which had a population of 23 at the 2010 census.
For the GOP side, Dixville Notch cast a total of five votes – three for John Kasich and two for Donald Trump.
Kasich also won in Hart's Location, narrowly trumping Trump 5-4. However, Ted Cruz was the favorite in Millsville, winning nine votes over Trump's three.
The second contest of the US election, the New Hampshire primary is seen as vital because it has historically been far more predictive than Iowa in terms of who will go on to be the presidential nominees.
You can share this story on social media: