Money, women and votes: Rattled Clinton supporters lash out at Sanders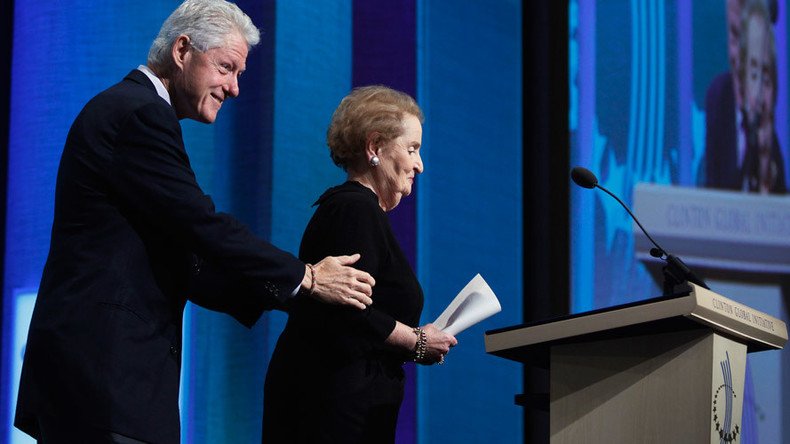 Trailing Bernie Sanders on the eve of New Hampshire primaries, Hillary Clinton is bringing out the big guns with her prominent backers have accusing Sanders of everything from sexism to hypocrisy on big banks.
The latest polls from New Hampshire show Sanders, an independent Senator from Vermont seeking the Democratic nomination, with a 54-40 percent lead over Clinton, a former Secretary of State. Last week's controversial caucuses in Iowa saw Clinton getting one more delegate than Sanders.
Reeling from the revelations about Clinton's speaking fees from Goldman Sachs and other large financial institutions, her campaign has lashed out at Sanders with allegations of double standards, dishonesty and sexism.
Former two-term president Bill Clinton took to his wife's defense, pointing out that Sanders benefited from big banks too. Clinton referred to a CNN report that in 2006, Sanders received $37,300 from the Democratic Senatorial Campaign Committee, along with $60,000 worth of advertising. The Vermont Democratic Party, which backed Sanders in his independent Senate bid, received another $100,000. Much of that money came from Goldman Sachs ($685,000), Citigroup ($326,000), Morgan Stanley ($260,000) and JP Morgan Chase & Co. ($207,000), according to CNN.
Clinton also brought up the incident in December, when a failure at the Democratic National Committee's software vendor unlocked the campaigns' private records. The Sanders campaign was accused of trying to steal the Clinton campaign data, and locked out of the database until it sued in federal court to regain access to own data.
READ MORE: DNC holds our data hostage - Sanders campaign on suspension over data breach
The most pointed attack from the former president touched on the so-called "Bernie Bros" phenomenon frequently brought up by the Clinton campaign: the notion that Sanders supporters are foul-mouthed, misogynist young men.
"People who have gone online to defend Hillary and explain why they support her have been subject to vicious trolling and attacks that are literally too profane – not to mention sexist – to repeat," Bill Clinton said.
Sanders has repeatedly distanced himself from supporters who have used offensive language. "I don't want anybody, anybody, who is engaged in sexism to support me," he said in a NBC interview on Sunday night. Later, on CNN, he called it "disgusting" and added, "Look, we don't want that crap."
The attack comes on the heels of statements made over the weekend by feminist journalist Gloria Steinem and former Secretary of State Madeleine Albright, both Clinton supporters. Appearing on "Real Time with Bill Maher" on Friday, Steinem insinuated that young women favored Sanders because "the boys are with Bernie."
Albright, a key foreign policy figure in Bill Clinton's administration, said there was a "special place in hell for women who don't help each other" at a rally in Portsmouth, New Hampshire on Saturday. The remarks prompted a backlash among feminists, who took issue with the notion that Clinton was somehow entitled to their vote.
Other observers are taking issue with the entire "Bernie Bro" narrative. While trolling and name-calling is a widespread problem online, "Clinton media supporters are cynically exploiting serious and disturbing phenomena and weaponizing them as tools for the Clinton campaign," investigative journalist Glenn Greenwald wrote in The Intercept.
You can share this story on social media: