Wild night for storm-battered cruise ship captured on social media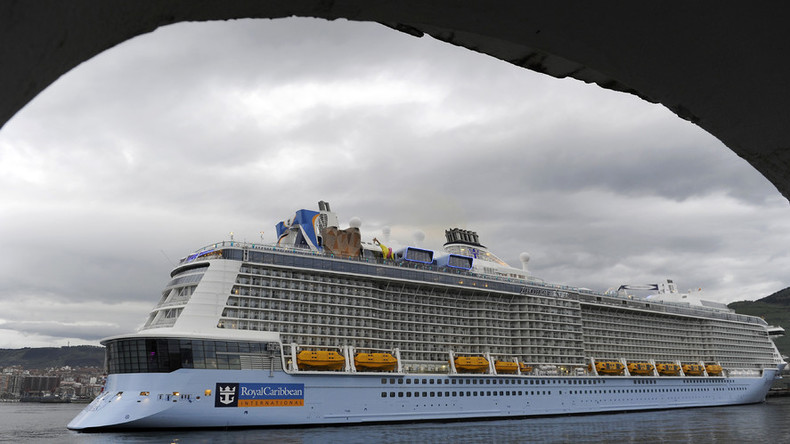 Caught in waves of more than 30 feet and hurricane-level winds, one of the all-time largest cruise ships suffered some damage. Royal Caribbean says Anthem of the Seas remains sound, as rattled travelers shared their tense experience on social media.
Royal Caribbean's Anthem of the Seas – the third-largest cruise ship ever – "experienced extreme wind and sea conditions," Sunday evening, as it traveled near Cape Hatteras off the North Carolina coast, said company spokeswoman Cynthia Martinez. The cruise ship departed from the New York area and was on its way to Port Canaveral, Florida.
The force of the storm, with winds of more than 70 miles (112 km) per hour, according to the US National Oceanic and Atmospheric Administration, compelled the ship's captain to command all 4,529 passengers and 1,616 crew to remain in their cabins.
"The ship has sustained some damage to the public areas and guest staterooms, which in no way affect the sea-worthiness of the ship," Martinez said.
Four injuries were reported, but "none severe," the cruise line said.
#AnthemoftheSeas sustained some damage to public areas & cabins, but ship remains seaworthy. Four injuries have been reported, none severe.

— RCLcorp (@RCLcorp) February 8, 2016
Martinez said the severity of the weather was unexpected, but that good weather is expected on the remainder of the ship's journey to Port Canaveral.
"I'm not going to lie: It was truly terrifying," Robert Huschka, a passenger on the cruise and executive editor of the Detroit Free Press, told USA Today.
Huschka said the ship's captain called for all passengers to stay in their rooms at about 3:30pm ET on Sunday.
Damage and poor weather were shared on social media by passengers on board.
"The captain told everyone this morning that the day was among his most challenging – if not his most challenging – at sea," Huschka said, adding that the damage on the ship included "lots of broken glass, especially on the pool deck."
The weather improved as the evening advanced, and the ship resumed its path to Port Canaveral after holding its position during the worst of the storm.
Some are now questioning claims made by Royal Caribbean that the bad weather was unforeseen.
You can share this story on social media: