Super Bowl's 50th birthday marred by concussion & homeless scandals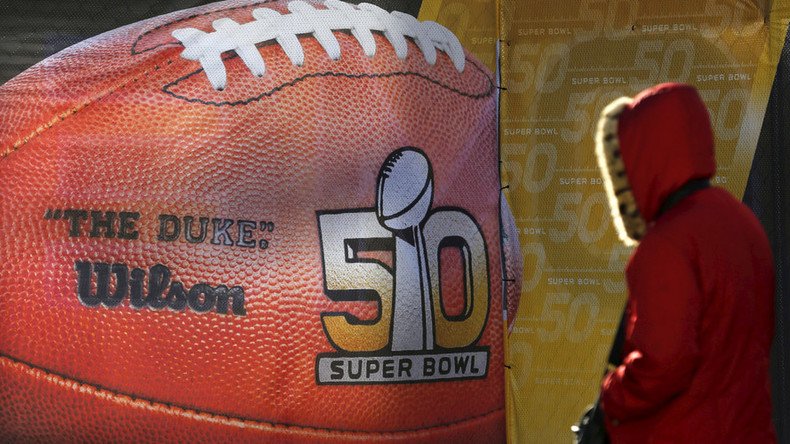 San Francisco is a city divided and not just over football. The 7,000 homeless residents who have already seen their chances of escaping poverty diminished by sky-high housing and rental prices have a new foe in the NFL.
Dozens of homeless people were removed from the city's waterfront to make way for "Super Bowl City", a fan village erected for one week of use to mark the Super Bowl at a cost of $5 million to taxpayers.
Camps of homeless people on the outskirts have also been cleared in an effort Mayor Ed Lee claims is to have them in shelters to protect against a long winter brought on by El Nino.
Allocating extra beds in shelters hasn't helped the mayor remove the visibility of the homeless from the streets.
Protests have attracted San Francisco residents from both sides of the wealth divide out onto the streets.
Super Bowl City (full name Super Bowl City Presented by Verizon) is a stark contrast to the place usually ignored by residents after dark to make way for sleeping homeless.
Chris Isaak and Alicia Keys took to a temporary stage to entertain the 15,000 in attendance.
Entrance is free, but a glass of Bud Light costs $8 and the ATM surcharge fee is $4.
Jennifer Friedenbach, executive director of the Coalition on Homelessness, told Alternet that even the free events would be off limits to homeless people because of tight security and prohibited items like tents and bags that "most homeless people have to carry around".
The kicker is the big game isn't even being played in San Francisco, but rather 45 miles to the south in a suburb called Santa Clara.
Its local economy is set to benefit from a dramatic increase in visitors for the game, and unlike San Francisco, the Super Bowl Committee will reimburse all of its costs.
San Francisco taxpayers are left paying the bill for the NFL's party, despite the league's reported revenue of $12bn last season, far more than the city's annual budget.
READ MORE: Watch the Super Bowl ads before they air - and vote for your favorite

Security has been heightened with the Paris, Oregon, and San Bernardino attacks looming over officials and attendees.
4,000 private security staff have been brought into the San Francisco and Santa Clara areas according to Reuters, with an F-15 Eagle and a Cessna 182 deployed by the US Air Force to cover the event, according to CNN.
The area 32 miles around the stadium has been declared a "no drone zone" from 2:00pm on Sunday.
The strain of the NFL isn't just being felt by the residents of the Bay Area.
The players on the field and retired players watching at home were dealt a blow last month when the NFL decided to cut funding to Boston University's research into diagnosing chronic traumatic encephalopathy (CTE) in patients before they die.
Christopher Nowinski, founder of the Concussion Legacy Foundation, interrupted a press conference Thursday to criticise the NFL's decision: "Their attempt to prevent that study from being funded is frankly a slap in the face to every family suffering from CTE right now."
Nowinski said the NFL were playing down the dangers of tackling in football through funding and marketing, citing NFL Commissioner Roger Goodell's teaching of a mother to tackle as comparable to "big tobacco teaching kids how to smoke".
The new film "Concussion" starring Will Smith has prompted one high school football star to reject a full scholarship to play in college.
"They've attempted suicide, gone bankrupt, broke, homeless – and at a young age – not older, but in their 40s and 50s," 18-year-old John Castello told ABC about former professional football players suffering from CTE. "That's very concerning to me."
The real-life neuropathologist portrayed by Will Smith, Dr Bennet Omalu, made headlines this week when he told ABC he would "bet my medical license" that former running back OJ Simpson was "more likely than not" suffering from CTE.
19 years ago this week, OJ Simpson was found not guilty of murdering his ex-wife and her friend.
You can share this story on social media: