Greatest threat to US? Sanders says 'paranoid' N. Korea, Clinton picks 'belligerent' Russia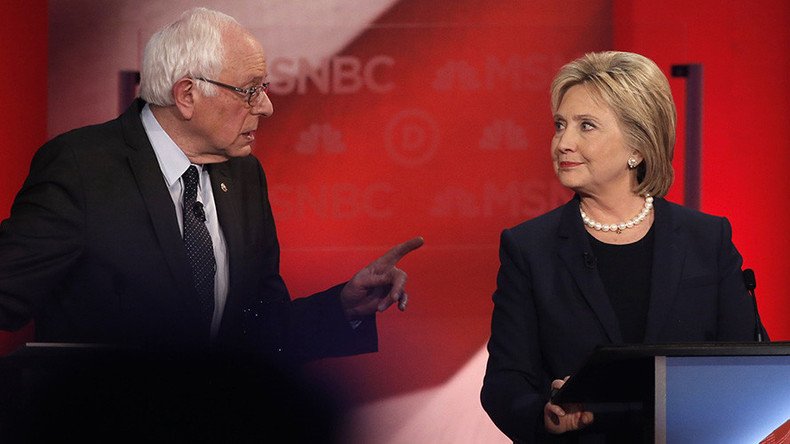 Between Iran, North Korea, and Russia, Hillary Clinton and Senator Bernie Sanders disagreed about which was the "greatest threat" to America in the final Democratic debate before the New Hampshire primary.
From the University of New Hampshire, MSNBC moderators Chuck Todd and Rachel Maddow steered what was the most contentious Democratic debate thus far, and no topic exemplified that more than foreign policy.
Clinton's lead in experience on these issues was "not arguable," Sanders said. But he added that judgment was also a point in foreign policy and that he had shown better judgment by voting against going to war with Saddam Hussein's Iraq.
"Back in 2002, when we both looked at the same evidence about the wisdom of the war in Iraq, one of us voted the right way and one of us didn't," he said.
The former secretary of state parried by saying her judgment contributed to killing Osama bin Laden, a high point of the Obama administration's record. As for Clinton's vote for invading Iraq, she suggested not dwelling on the past.
"A vote in 2002 is not a plan to defeat ISIS. We have to look at the threats that we face right now," she said.
The candidates spoke in once voice on the general strategy for dealing with the terrorist group Islamic State (IS, formerly ISIS/ISIL) but supporting Obama's stance. 'No' to American combat troops on the ground, 'yes' to special forces, airstrikes and trainers, Arab troops must do the actual fighting – Sanders and Clinton couldn't agree more.
Where they did differ was about which country posed the biggest threat to America between Iran, North Korea, or Russia.
"ISIS," Sanders said to some pushback from Todd, to which he relented and picked North Korea instead.
"I worry very, very much about an isolated country. That's what makes me nervous. Russia lives in the world. China lives in the world. North Korea is a very, very strange country because it is so isolated, and I do feel that a nation with nuclear weapons… they have got to be dealt with," he said, adding that leaning on China would do the trick.
For Clinton, it was apparently Russia that deserved the "greatest threat" designation, judging by the time she spent talking about it. She lamented Russia's support of Syrian President Bashar Assad's government, which the US wants to topple, and "pressure" from the Kremlin on US allies in Europe.
"Russia is trying to move the boundaries of the post-World War II Europe," she said, "the way that [Russia] is trying to set European countries against one another, seizing territory, holding it in Crimea, beginning to explore whether they could make some inroads in the Baltics."
Her solution to the problem is more military spending, but not by America.
"We have to send a very clear message to Putin that this kind of belligerence, that this kind of testing of boundaries will have to be responded to. The best way to do that is to put more armor in, put more money from the Europeans in so they're actually contributing more to their own defense," Clinton suggested.
Sander's view of Russia is somewhat different. He vaguely mentioned that he worried "about Putin and his military adventurism," but he also listed Russia among key allies of the US, who should band together in fighting against IS.
"We cannot be the policeman of the world," Sanders said. "We've got to work in strong coalitions with the major powers in the world."
The Iranian nuclear deal was another moment of agreement between Clinton and Saunders, who both praised President Obama for sealing it. But the former secretary accused the senator of seeking to get along with Tehran unconditionally and at the cost of compromising Israel's security.
"Sanders," she said suggested "inviting Iranian troops into Syria to try to resolve the conflict there; putting them right at the doorstep of Israel. Asking Saudi Arabia and Iran to work together, when they can't stand each other and are engaged in a proxy battle right at this moment."
"Please don't suggest that I think we normalize relations with Tehran tomorrow. We don't," Sanders retorted. "They are a sponsor of terrorism around the world and we have to address that. But you know, a number of years ago, people were saying normal relationship with Cuba, what a bad and silly idea. They're Communists, they are our enemy. Well guess what? Change has come."
Afghanistan and the pullout strategy was a low point for Sanders, who repeatedly deflected Todd's questions about how long the current 10,000 troops would stay there under a President Sanders.
"Well, you can't simply withdraw tomorrow. Wish we could, and allow, you know, the Taliban or anybody else to reclaim that country," he finally said.
You can share this story on social media: