#TooLateObama: President criticized for mosque visit from left and right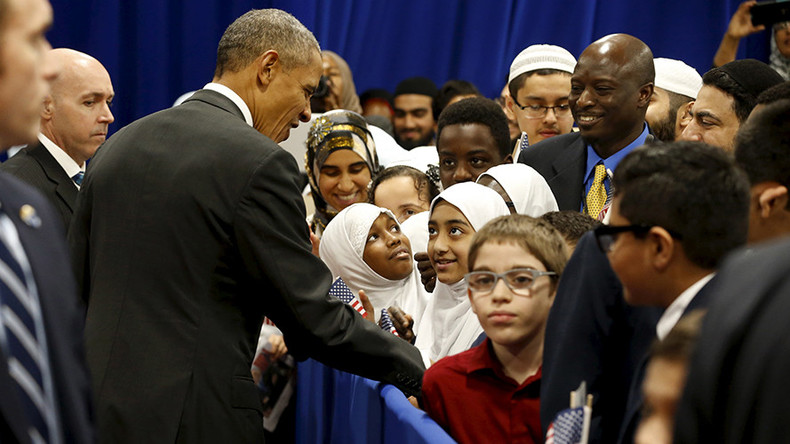 President Barack Obama is facing backlash for his historic first visit to an American mosque. Muslims complain that it was too little, too late, others are criticizing the choice of mosque, while Republicans are attacking him for making the visit at all.
The president's speech on Wednesday at the Islamic Society of Baltimore ‒ a large, suburban mosque in Maryland ‒ was intended to comfort Muslim-Americans and ensure they feel welcome in their home country. "We are one American family," he said, "we will rise and fall together."
However, members of the Muslim-American community took to Twitter to lambaste Obama over the timing of his visit ‒ coming just before the end of his second term ‒ and to accuse him of hypocrisy because of America's ongoing drone program in Pakistan and the Middle East.
People used the hashtag #TooLateObama to point out the president's dubious record on Guantanamo and drone strikes on, well, Muslims:
Although the hashtag presented predominantly critical views of the President's visit and his policies in office, there were at least some who offered positive opinions:
On the political right, Republican presidential hopefuls piled on both Obama's speech and its location. The frontrunner on the national level, Donald Trump, and rival Marco Rubio led the criticism.
Trump, who has long questioned Obama's religion and country of birth, suggested that the president visited the mosque because "maybe he feels comfortable there."
"I don't have much thought, I think that we can go to lots of places. Right now, I don't know if he's ‒ maybe he feels comfortable there," the billionaire businessman told Fox News' Greta Van Susteren. "We have a lot of problems in this country, Greta, there are a lot of places he can go, and he chose a mosque. I saw that just a little while ago, and so that's his decision, that's fine."
During his 45-minute speech, the president appeared to condemn Trump's anti-Muslim rhetoric without actually naming the candidate.
"We have to reject a politics that seeks to manipulate prejudice or bias and targets people because of religion," Obama said. "None of us can be silent. We can't be bystanders to bigotry."
Meanwhile, Rubio said that Obama's visit to a Muslim congregation was yet another instance of the president pitting Americans against one another "along ethnic lines and racial lines and economic lines and religious lines."
"I'm tired of being divided against each other for political reasons like this president's done," the Florida senator said at a town hall in Dover, New Hampshire. "Always pitting people against each other. Always."
"Look at today – he gave a speech at a mosque," Rubio continued. "Oh, you know, basically implying that America is discriminating against Muslims. Of course there's going to be discrimination in America of every kind. But the bigger issue is radical Islam. And by the way, radical Islam poses a threat to Muslims themselves."
"But again, it's this constant pitting people against each other ‒ that I can't stand that. It's hurting our country badly," Rubio said. "We can disagree on things, right? I'm a Dolphin fan, you're a Patriot fan."
Obama's choice of the Islamic Society of Baltimore also drew fire. Its former imam, Mohamad Adam El-Sheikh ‒ who served there from 1983-1989 and 1994-2003 ‒ has ties to both the Muslim Brotherhood and the Northern Virginia mosque where the radical Anwar al-Awlaki used to preach, according to Fox News.
"As a Muslim-American I'm just insulted, this is disgraceful that this is one of the mosques ‒ or the mosque ‒ that he's chosen to visit," Zuhdi Jasser, of the American Islamic Forum for Democracy, told the cable network on Sunday. "This mosque is very concerning."
Some in the Muslim community, however, called the efforts to connect the Islamic center to an imam who hasn't worked there in over a decade specious, and said it creates the exact kind of anti-Islamic rhetoric Obama spoke out against.
"I know of no other religious community that has this kind of litmus test applied to it," Maya Berry, executive director of the Arab American Institute, told Fox News.
You can share this story on social media: