Spectacular drone footage shows 'monster' sinkhole along Oregon highway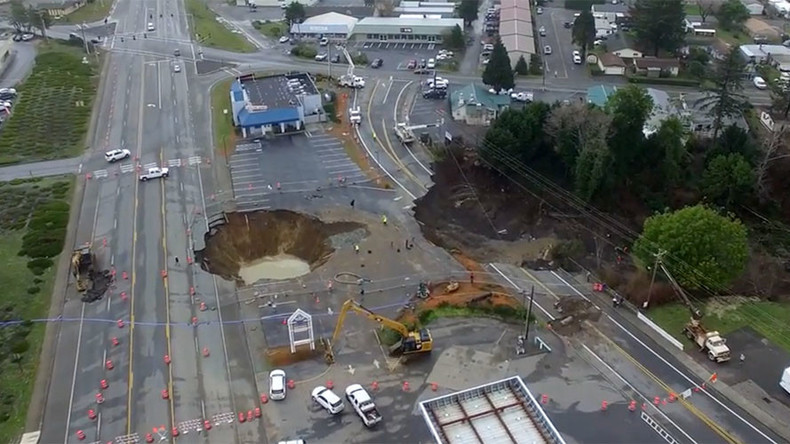 A massive sinkhole and a nearby landslide swallowed up part of the road in Harbor, southwest Oregon, shutting down Highway 101 there. The ominous-looking scene was captured in an aerial video.
The initial sinkhole developed in mid-December after a culvert under the road failed and following a series of storms and heavy downpours of rain, the hole continued to widen, resulting in the road's closure on Thursday evening, The Curry Coastal Pilot reported.
"It's a monster," Jared Castle, spokesman for the Oregon Department of Transportation told NBC News.

A smaller sinkhole also opened up four lanes across from the larger hole while a landslide located a mere 50 feet from the sinkhole collapsed two lanes of the parallel road, sinking into the ravine beside it.
Spectacular drone footage from YouTube user Kyle Rice shows the sheer size of the hole and landslide, dwarfing the workers standing nearby.
No vehicles were swallowed by the hole and no injuries have been reported, according to Oregon Public Broadcasting.
Sinkholes and landslides are a frequent occurrence in the region due to its geography. "It's just part of the battle of having the Oregon Coast Highway located where it's at," Castle said. "It's a road built in a place where Mother Nature never intended for there to be a road."

Officials say it could be eight weeks before the road is fully repaired.
You can share this story on social media: