1 dead, multiple injured in Denver motorcycle rally shooting & stabbing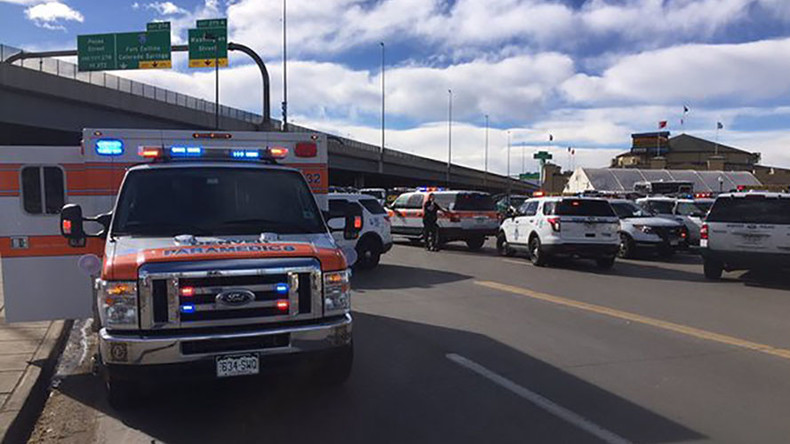 At least one person was killed in a shooting and stabbing attack at a motorcycle rally in Denver, Colorado, with multiple victims hospitalized. Police say no one is yet in custody and the situation is being investigated.
The shooting broke out on Saturday afternoon at the National Western Complex, which was hosting the Colorado Motorcycle Expo. Previously, police mistakenly reported the location as the Denver Coliseum, which is across the road.
Speaking to reporters on camera, police spokeswoman Raquel Lopez said that there had been a "disturbance" with "shots fired and at least one stabbing."
"We do have one deceased party and multiple other victims. At this time we do not have anyone in custody," the officer said.
The situation also sent the Denver Health Emergency Department into lock down "as a precaution," according to its official Twitter account.
At least six people, including three in critical condition, were taken to hospitals after the incident, Denver Health tweeted. It confirmed that the Emergency Department is still being guarded by police and thanked the officers "for making the safety of our staff, patients, and visitors a priority."
Denver Health Medical Center is handling the emergency, ER doctor Kevin McVaney told The Denver Post. "We are very prepared for this number of trauma patients."
Numerous media and Twitter reports have suggested that several rival motorcycle gangs may have been responsible for the violence. This has not yet been confirmed by police. A reporter for the Denver7 Channel, Brendaliss Gonzalez, tweeted that the situation remained "tense," with some people still inside the building despite an evacuation and reports of "fights."
One witness, Darren Moffatt, who was eating in a nearby restaurant, said he heard someone yelling, demanding that everyone get on the floor, local channel 9News reported. As the shooting began, he crawled under the table.
Moffatt described the air as smelling like smoke and said when he was leaving the restaurant he saw a puddle of blood.
DETAILS TO FOLLOW
You can share this story on social media: