US returns looted head of Hades to Italy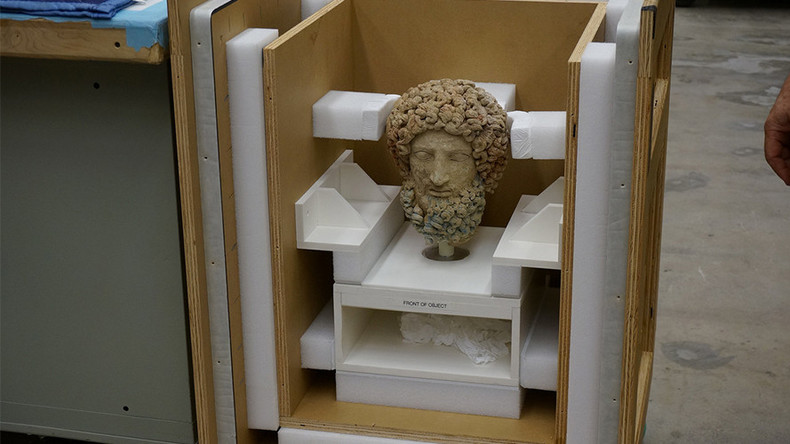 The head of Hades, Greek God of the Underworld (and the original hipster judging by his beard), finally returned home to Sicily Friday after four decades in the hands of thieves and collectors.
Known as "Bluebeard" due to the pigment of its curly whiskers, the terracotta artifact was stolen from the Italian island in the 1970s before finding its way illegally to Los Angeles' controversial J Paul Getty Museum (aka "the Getty"), named after the oil baron who built it.
The home of the stolen head, which is more than 2,000 years old, was identified when archaeologists discovered fragments of its blue 'facial hair' at an excavation site in Sicily.
A deal was made to return the head from the US in 2013, where it remained in storage until Italian officials could arrange for its homecoming.
This ends one chapter in the Getty's storied history - replete with intrigue, tax fraud, and global art smuggling.
Two men who literally wrote the book about it, titled Chasing Aphrodite: The Hunt for Looted Antiquities at the World's Richest Museums, explained how the museum went from a private tax shelter housed in Getty's Malibu home to the "800-pound gorilla of the art world" and the scene of "one of the largest museum tax frauds in American history".
A Getty plan in 1977 to avoid California taxes by displaying six items in Colorado, including a $5 million Greek statue, backfired when authorities found out and levied a $330,000 tax against the owners, according to a UPI story at the time.
Chasing Aphrodite authors Jason Felch and Ralph Frammolino also recounted the infamous story of the Getty's 'mighty' Greek Goddess statue.
When Aphrodite was first uncrated after arriving at the museum in 1988, one staff member reportedly remarked: "Are you kidding? This thing is a hot, hot potato."
"Bluebeard" found its way to the Getty in 1985 after the museum acquired it for $500,000 from Maurice Tempelsman, a Belgian businessman and partner of US First Lady Jacqueline Kennedy in the final years of her life.
Tempelsman sold the piece to the museum via London art-dealer Robin Symes, according to The Local.
Symes was sentenced to 21 years in prison for trafficking stolen art pieces in 2005 and released after seven years.
Symes' case followed the conviction of New York City art dealer Frederick Schultz in 2002 for his role in importing and selling stolen Egyptian antiquities, described as "a landmark decision in cultural property law" by Nora Crumpton, writing for the website Saving Antiquities for Everyone.
"Never before had such a prominent recipient of stolen antiquities received jail time for trafficking in cultural property," Crumpton wrote about US v. Schultz. "(His) sentence was a wake-up call to American looters, art dealers, and collectors who had previously considered themselves above the law."
The same year Symes was sentenced, the Getty was accused by the Italian government of taking part in a stolen art ring, indicting its curator Marion True.
Charges against True were eventually dropped, but it was enough to shake up the art world.
US museums have since returned hundreds of pieces to Italy to avoid similar grievances.
The Getty returned three pieces in 2014, including a Greek marble statue of Venus, also bought from Symes in 1988 for $18 million.
"By the 1970s, colonial plundering was no longer a legitimate means to acquire ancient art, so museums began looking to a different source to bolster their antiquities collections," wrote American University's Michael Murali in his brief Black Beauty: How Schultz and the Trial of Marion True Changed Museum Acquisitions. "As a result, the trafficking in stolen art and artifacts has become a multi-billion dollar endeavor rivaling the narcotics and arms industries."
He added: "In recent years, there has been a sea change in museums' attitudes towards the collection of antiquities. United States v. Schultz and its predecessors, as well as the recent trial of Marion True in Italy, have resulted in museums' changed attitude towards establishing the provenance of items they acquire and addressing patrimony claims".
"Bluebeard" will now live in Sicily's Aidone museum, but one wonders if he was able to talk like the head of "The Simpsons" character Jebediah Springfield, could he have convinced his kidnappers to return him years ago?
You can share this story on social media: