Mysterious tremors felt across New Jersey, blamed on military sonic boom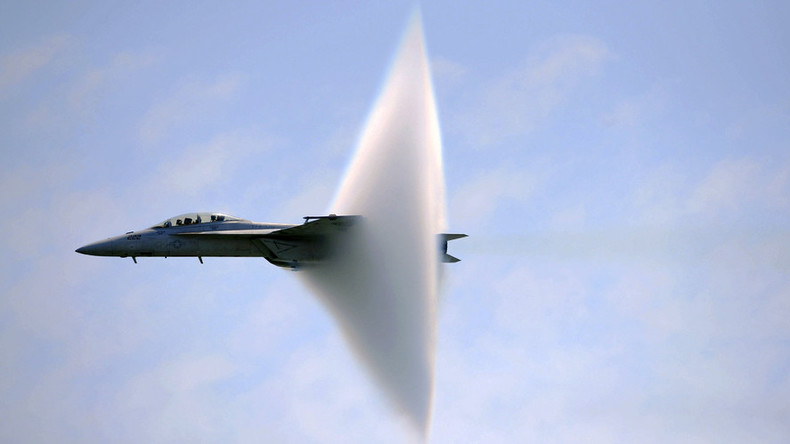 A sonic boom felt across the tri-state area for over an hour on Thursday was reportedly caused by military tests over the Atlantic Ocean. Military officials deny any involvement, while the public has been busily exploring other possibilities.
Beginning around 1:30 p.m., people from southern New Jersey to Long Island and parts of Connecticut called 911 to report what they guessed was an earthquake, with some reporting multiple episodes of rattling in their homes or offices. No injuries were reported.
The National Weather Service in Mount Holly contacted Columbia University researchers who confirmed the source was not an earthquake, ABC News reported.
New York's WABC was first to report that the mysterious tremors were caused by military aircraft testing from the Joint Base McGuire–Dix–Lakehurst.
However, base officials denied the report shortly thereafter. "It wasn't us," a spokesman told WABC.
A sonic boom is what happens when an aircraft travels faster than the speed of sound - about 768 miles per hour - and breaks the sound barrier. As the air left behind the vehicle travels downward, its impact can sound like thunder to people on the ground, according to NASA.
But the North American Aerospace Defense Command (NORAD), disputes the sonic boom theory entirely.
"There has been no indication of a sonic boom or anything else at this time," Lt. Commander Richlyn Ivey said, according to the Star-Ledger.
The 177th Air National Guard reported it had no flights operating in the area, WABC reported. However, NASA spokesperson Allard Beutel relayed reports of a military aircraft off the coast of Sea Isle City, according to NJ.com.
"At least 9 sonic booms were recorded in the following hour and a half," the US Geological Survey reported on its website.
Dan Skeldon, a south New Jersey meteorologist, took to Facebook to postulate why so many booms across such a wide area were felt and heard. "Atmospheric inversion," when warm air is higher up from the ground than cold air, could have provided the perfect setting for such a boom to travel the way it did.
"If the cause of the sonic boom took place in that warm layer, sound travels through warm air much more easily," Skeldon posted.
Not satisfied with the official explanations, or lack thereof, some Twitter users put forth their own theories.
Others were surprisingly sure about what the cause was.
You can share this story on social media: