Oregon standoff dwindles as more protesters are arrested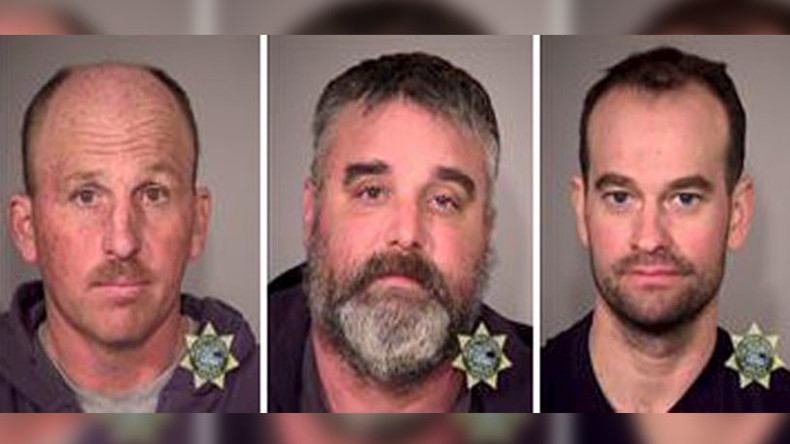 The armed standoff at an Oregon wildlife refuge has continued even after its leader was arrested and he told his followers to "stand down." However, three more protesters were detained, and only four militia members remain committed to the cause.
At approximately 3:30 p.m. local time on Wednesday, Duane Leo Ehmer, 45, and Dylan Wade Anderson, 34, were arrested "without incident" at an FBI checkpoint. Four hours later, Jason S. Patrick, 43, was also arrested at the same location. Five others were allowed to leave without being taken into custody.
READ MORE: Bundy, militia arrests a 'sigh of relief' for Burns community – Oregon mayor to RT
Each of the three faces federal felony charge of conspiracy to impede officers of the United States from discharging their official duties through the use of force, intimidation, or threats. This same charge was levied against leader Ammon Bundy and the other protesters arrested on Tuesday.
Over the course of two days, a total of 11 members of the group occupying Malheur National Wildlife Refuge have been arrested. Another member of the group was killed in a shootout with police.
Just 4 remain at the refuge: David Frye, husband and wife Sean and Sandy Anderson, and Jeff Banta. #Oregonstandoff

— Amelia Templeton (@ameliaOPB) January 28, 2016
Only four militants remain in the refuge, according to a reporter: David Frye, husband and wife Sean and Sandy Anderson, and Jeff Banta.
But the jailed leader of the militants issued a statement through his lawyer earlier on Wednesday, telling them to stand down.
"Right now, I am asking the federal government to allow the people at the refuge to go home without being prosecuted," the statement read. "To those remaining at the refuge, I love you. Let us take this fight from here. Please stand down. Go home and hug your families. This fight is ours for now in the courts. Please go home."
The statement also pays tribute to Robert "LaVoy" Finicum, a spokesman for the group who had previously said that he would prefer dying to going to jail. He was shot and killed in a confrontation with authorities on Tuesday.
An official said that Finicum was shot after he refused to surrender, according to The Washington Post.
Bundy's militants have occupied the wildlife refuge since January 2, and for weeks it seemed like a very low-stakes affair. Protesters came and went freely, and law enforcement was mostly concerned with surveillance of the areas. Arrests came 25 days later, however, when authorities ratcheted up pressure.
"They have chosen to threaten and intimidate the America they profess to love and through their criminal actions bring these consequences upon themselves," Greg Bretzing, the FBI special agent in charge, said earlier Wednesday, according to USA Today.
However, Cliven Bundy, Ammon's father, has a much different view of the group, and said that the arrests and fatal shooting of Finicum "will be a wake-up call to America."
"This is a total disaster to be happening in America," the infamous Nevada rancher told Las Vegas Review-Journal. "My sons were there to do good."
You can share this story on social media: