Computers, phones stolen in break-in at Rand Paul campaign office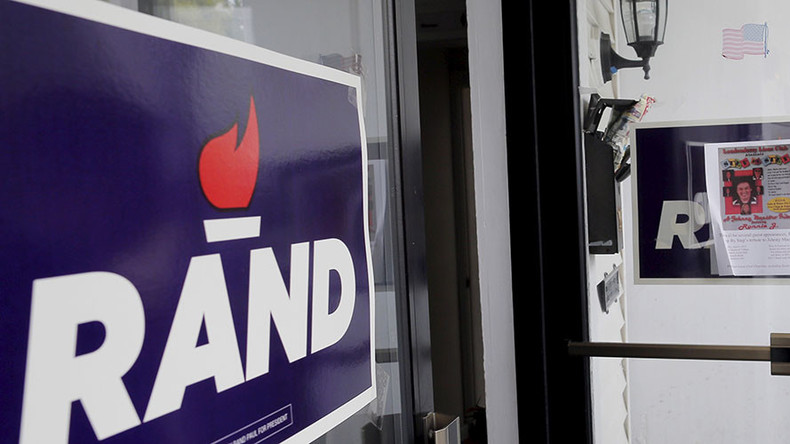 An overnight break-in at Senator Rand Paul's New Hampshire presidential campaign office led to the loss of several computers, cameras, and cell phones. The building where the office is had suffered other break-ins earlier in the week, campaign staff said.
Matt Chisholm, Paul's New Hampshire communications director, claimed that the items stolen included "four iPads, two laptop computers, two cell phones and some other small electronic devices, including cameras and headphones," according to NECN, an NBC affiliate.
Chisolm said the thieves appear to have accessed the office by breaking down a door. There are no suspects at this time, but police are continuing to investigate.
Manchester police confirmed the burglary, according to UPI, but said a full report would not be available until Thursday.
Police said the break in occurred between 11:00 pm on Tuesday and 8:30 am on Wednesday. They added that the campaign office is working to determine all of the items that were taken, while police have increased patrols around campaign offices in the city in recent weeks.
The national adviser for Paul's campaign, Michael Biundo , also confirmed the break-in.
"Going to Iowa today for the final caucus push and now I am dealing with our New Hampshire for .@RandPaul office being broken into," he wrote on Twitter, though he didn't specify what, if anything, had been taken.
Brandon Ross, a local attorney and volunteer for the Paul campaign, told Truth In Media that other businesses in the same building had reported attempted burglaries earlier in the week.
GOP presidential frontrunner Donald Trump's Massachusetts headquarters was vandalized earlier in January.
The lewd words and signs included graffiti making vulgar and sexual references, while others compared Trump to a Nazi. The word "pig" also appeared to have been spray-painted across a window of the Trump headquarters. The incident was reported to police on January 9.
You can share this story on social media: