Time to dig out: Huge snowstorm comes to end leaving at least 25 dead on US East Coast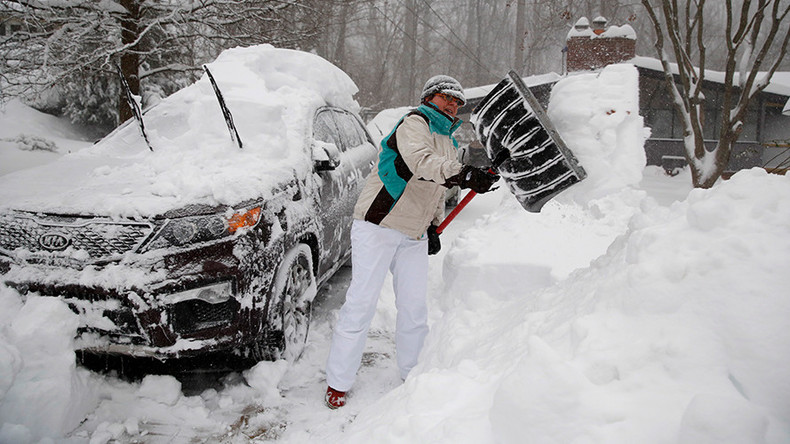 The Huge snowstorm, 'Jonas', which hit and paralyzed the US East Coast has moved away, leaving at least 25 people dead. A travel ban has already been lifted for New York, but not for Washington – and 700 flights are not expected to take off on Monday.
The deadly blizzard killed at least 25 people, according to officials. Most of them – 14 – died in car crashes in Arkansas, North Carolina, Kentucky, Ohio, Tennessee and Virginia. In Virginia, two more died of hypothermia. Five persons also died in Maryland.
In New York City three people also died while shoveling snow, CBS News reported, citing police.
Jonas became the second biggest snowstorm in New York since 1869 with the snow dropping at a level of 26.8 inches (68.1 centimeters) in Central Park. It was just 0.1 inches short of the record heaviest New York blizzard which occurred in February, 2006.
The all-time record was registered in Baltimore, Maryland, with 29.2 inches (about 74 centimeters) of snow, as well as in Harrisburg, Pennsylvania with 28.6 inches (about 71 centimeters) of snow, according to the Weather Channel. The biggest amount of snow was registered at Glengary, West Virginia – 40 inches (101.6 centimeters).
READ MORE: 28 inches of snow, floods, emergency in NY: Epic & deadly storm hits East Coast (PHOTOS,VIDEOS)
"This is kind of a Top 10 snowstorm," weather service winter storm expert Paul Kocin told CBC.
The US East Coast is to return back to normal life. New York has already lifted a travel ban imposed on Saturday while Baltimore Mayor Stephanie Rawlings-Blake asked residents to remain off the road in order not to disturb crews clearing the streets.
Airports around Washington DC are likely to remain closed on Sunday. Moreover, around 700 Monday flights have already been canceled – in addition to about 7,000 cancellations at the weekend.
The snowstorm struck the US on Friday evening causing transport chaos, heavy coastal floods in New Jersey and Delaware as well as strong winds 120 kilometers pro hour – a wind speed registered in at Dewey Beach, Delaware, and Langley Air Force Base, Virginia, AP reports citing weather services. The storm turned always busy New York and Washington DC into ghost cities with empty streets.
According to weather forecasts, snowstorm Jonas, which urged 11 US states to declare emergency, is to cross the Atlantic Ocean and to hit Great Britain on Tuesday causing heavy rains. Warnings have already been issued for most of Wales, north-west England, and south and west Scotland, Sky News reports.
READ MORE: Happy panda: DC zoo bear enjoys blizzard snow (VIDEO)
You can share this story on social media: