28 inches of snow, floods, emergency in NY: Epic & deadly storm hits East Coast (PHOTOS,VIDEOS)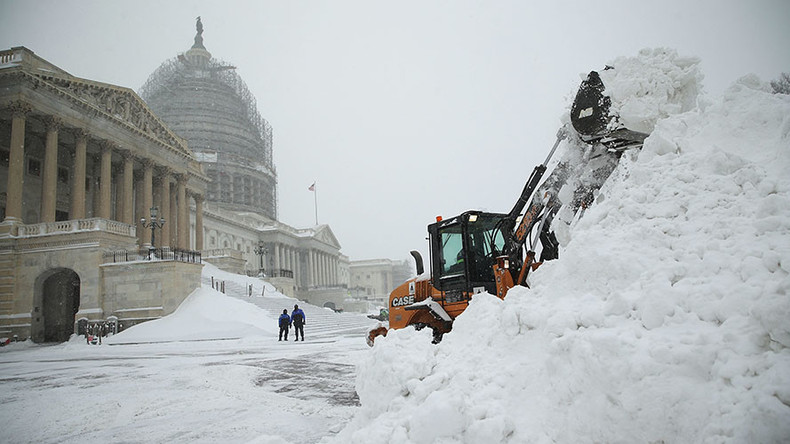 A huge snowstorm has struck the US East Coast, causing heavy floods and paralyzing cities with a record amount of snow. Governors of ten states have declared a state of emergency, with New York being among the latest. At least 19 storm-related deaths have been reported.
Snowstorm 'Jonas' caused six meter waves, as well as hurricane-force winds with speeds of up to 120 kilometers per hour in the town of Rehobeth Beach, Delaware. Town beaches have overflowed. Water in Lewes – another Delaware city – rose to its second-highest record level, beating that witnessed during Hurricane Sandy in 2012.
A number of cities in neighboring New Jersey suffered from severe floods: The streets of Atlantic City, Sea Isle, North Wildwood and Cape May were submerged.
Both Delaware and New Jersey's governors as well as the heads of eight more states including Tennessee, North Carolina, and Virginia declared a state of emergency.
The suite was followed Gov. Andrew M. Cuomo, who declared a state of emergency for New York City as well as Nassau, Suffolk, Westchester, Rockland, Orange and Putnam Counties.
The huge snowstorm, jokingly dubbed 'Snowzilla', paralyzed cities of the US East Coast with up to 28 inches (about 71 centimeter) of snow – the level registered in Terra Alta, West Virginia, USA Today reported.
In Washington DC, the federal government closed its offices and the underground system has been suspended, CBS News reports.
"We need the public to listen, is to stay home and to stay off of the streets. That includes people who are attempting to drive, but that also includes people who are walking," Washington Mayor Muriel Bowser said as cited by WAMU radio's website.
In New Jersey 40,000 people suffered power cuts on Saturday according to CBS News.
The snowstorm also caused transport chaos across the East Coast states. Almost 1,000 car crashes were reported by Virginia police by late Friday.
Thirteen people died in accidents across the country because of the storm. One person died in Maryland and three in New York City while shoveling snow, and two others died of hypothermia in Virginia, acording to Reuters. One more death – because of a heart attack – is reported in DC region.
New York authorities are going to introduce a travel ban in the city, ABC News reports.
About 8,300 flights were canceled Friday and Saturday, as well as sporting events and band concerts, according to the USA Today.
People, however, do not fall into despair, sharing in the social networks with unusual photos and videos with streets full of snow, football stadiums covered with snow and even pandas playing in the snow.
The storm was even photographed from space – but we are not sure US astronaut Scott Kelly feels like going down.
You can share this story on social media: