San Francisco attempting to relocate homeless before Super Bowl 50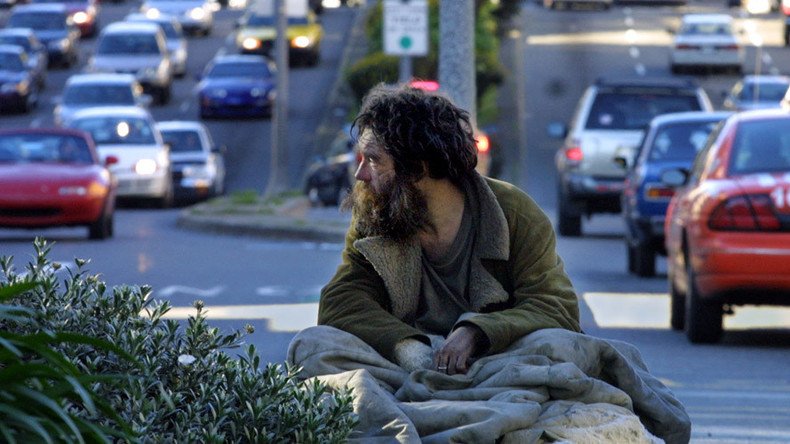 With Super Bowl 50 just weeks away, host city San Francisco is struggling to move its homeless into shelters and out of the eye of the media. Workers have been sent to the Embarcadero to help transients find shelter away from the future Super Bowl Fan Village.
According to Bloomberg Politics, San Francisco officials are focused on cleaning up the scenic waterfront Embarcadero Center. The Embarcadero is a highly rated shopping and dining center with high-end stores like Godiva Chocolatier and L'Occitane En Provence. With views of the Golden Gate Bridge, it is easy to see why it is an ideal location for the one million visitors expected to be at the Super Bowl Fan Village.
However, the city's famed Market Street, which runs down to the Embarcadero, is also a makeshift home to some of San Francisco's 6,775 homeless residents.
City officials have been scrambling to create alternative housing for the transient population, according to SF Gate. Officials say they've added an additional 500 temporary beds around the city on top of the regularly available 1,233 beds. Pier 80, located about four and a half miles away from the Embarcadero, has been transformed into a 150-bed shelter.
Bloomberg Politics reports that the pop-up shelters have less to do with the Super Bowl and more to do with El Nino. A spokeswoman for Mayor Ed Lee told the outlet that the focus on relocating the homeless around Justin Herman Plaza in The Embarcadero comes from the association with "cold, wet weather." She added that "it is dangerous and unhealthy to live on our streets."
Advocates for the homeless aren't buying it, though.
"They want to decrease the physical presence and reminder of poverty and create an illusion that poverty does not exist by removing poor people from the vicinity of the Super Bowl Party," Jennifer Friedenbach of the San Francisco-based Coalition on Homelessness told Bloomberg.
Back in August, Lee told KPIX 5 that "[The homeless] are going to have to leave" when it came time for Super Bowl festivities. He also said: "We'll give you an alternative. We are always going to be supportive. But you are going to have to leave the streets."
Whether or not the homeless populations around the Embarcadero want to relocate to shelters is another question. Christopher James, a 33-year-old homeless man, told Bloomberg that "Shelters are nasty. Eleven years ago, I stayed in a shelter. It was a weird feeling."
With San Francisco having the eighth-highest homeless population in the country, hygiene problems associated with homelessness have posed a problem for locals. According to a Bloomberg graph, the number of public requests to clean encampments, urine, and feces has more than doubled since 2012.
The cost of the relocation project is estimated to be $5 million and the bill is being footed by taxpayers.
"We should be making sure that we're delivering services throughout the city not just because of a special event," Jane Kim, a civil rights attorney and district supervisor, told the site. "We should be providing this type of compassionate, strategic approach all the time."
You can share this story on social media: