Cold feet: State Dept. uses blizzard to try to delay major Clinton email release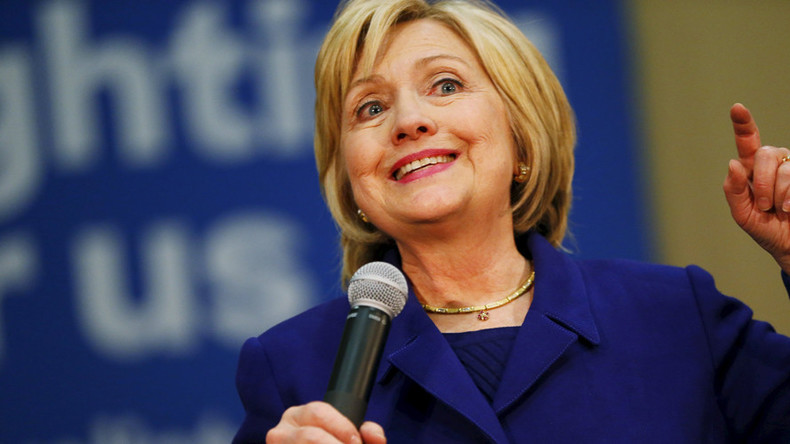 The State Department requested a federal court to move the deadline for releasing the most contentious emails on Hillary Clinton's private server, saying it "overlooked some necessary consultations" and citing the giant blizzard affecting the East Coast.
January 29, 2016 was the final due date a US District Court gave the State Department to release what's left of Clinton's emails, but on Friday the department asked it be pushed to February 29 instead, providing extra time to pass the emails through intelligence agencies for review and redaction. The case revolves around a Freedom of Information Act request by Vice News from last year.
Last week, the State Department became aware that it had forgotten about 7,254 pages of emails it was supposed to have already sent to a handful of intelligence agencies "when the Clinton email team's efforts were focused on processing records that had already gone through interagency consultation," the Friday court filings explained.
The State Department did say it could produce most of the emails by January 29 "absent interruption from the snowstorm beyond the weekend." It is unclear if the bad weather will continue to keep much of Washington, DC closed next week, but if it does, the government could request another delay.
"I think it is fair to ask how many more extensions is State going to seek, and what's in the remaining emails that requires so much more time to review and release them?" Vice News attorney Ryan James said in opposition to the court request, according to Vice.
James mentioned last March that the State Department told the court "several months" would be necessary to complete the Clinton email release, according to Vice.
"We will strive to produce as many documents as possible on [January 29]," State spokesman Mark Toner said in an emailed statement to the press, describing the unreleased emails as "the most complex to process."
The delay request comes as more US officials speak out on the Clinton email scandal.
Former Attorney General Michael Mukasey took to the op-ed page of The Wall Street Journal to write, "it is nearly impossible to draw any conclusion other than that she knew enough to support a conviction at the least for mishandling classified information."
Mukasey noted that the same charge of mishandling classified information was successfully levied against General David Petraeus. The difference being that Petraeus gave up secrets written in a personal journal to his biographer and mistress, who had top secret clearance and was an Army Reserve military intelligence officer. In Clinton's case, senior officials believe she may have had thousands of classified documents stolen by a foreign hostile nation or group.
"Given the fact that the Pentagon acknowledges that they get attacked about 100,000 times a day, I think the odds are pretty high" Russia or China hacked the personal server, former Defense Secretary Robert Gates told radio host Hugh Hewitt on Thursday.
So far over 1,300 emails of Clinton's have been retroactively marked classified, with some being marked higher than top secret. There are still more than 9,300 emails yet to be released by the State Department.
Meanwhile, the FBI's espionage investigation is expanding, Fox News learned from three anonymous intelligence agency sources.
"The agents are investigating the possible intersection of Clinton Foundation donations, the dispensation of State Department contracts and whether regular processes were followed," one source said.
Previously released emails have shown Clinton received virus-laden emails on five occasions, where attached files, if opened, compromised email storage security, sending communications to three foreign server computers, one of which was in Russia. It is unclear if the Russian government is involved with that server location or if Clinton ever opened the harmful attached files, though the fact that her email address was not publicly known raised questions as to how she received an email disguised as a parking ticket from her residential state, New York. The Associated Press reported that the malicious email would have been blocked by most commercial antivirus software available at the time.
Other email hack efforts from China, South Korea, and Germany happened in 2013 and 2014, after Clinton left her position as secretary of state, according to the Senate Homeland Security and Government Affairs Committee, and security contractor SECNAP Network Security.
The email scandal has at least partially hurt Clinton's presidential aspirations, with her Democratic opponent Sen. Bernie Sanders (I-Vermont) pulling ahead in some Iowa and New Hampshire polls. The February 1 Iowa caucus and February 8 New Hampshire primary follow soon after the original January 29 deadline, and if the federal court grants the extension request, the State Department will not have to release all the documents until one day before the Super Tuesday primaries, which include delegate-heavy states Florida, Illinois, Ohio, and Texas.
You can share this story on social media: