Oregon militia leader Ammon Bundy has begun talks with FBI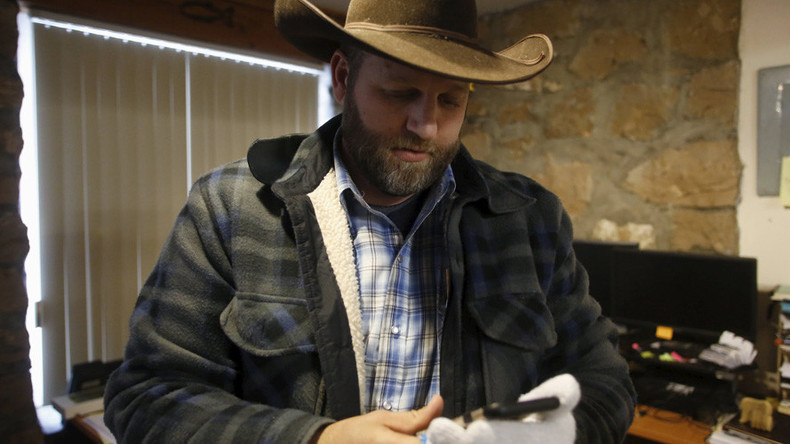 The leader of a group of armed protesters who will have occupied a US federal wildlife refuge for 21 days as of Saturday has begun negotiations with the FBI for the first time.
After almost three weeks of occupying a federal building, Ammon Bundy arrived unannounced at the Burns Municipal Airport on Thursday, close to where federal officials set up a staging area for the standoff with the protesters. He said that an FBI negotiator had reached out to the group two days earlier by sending 14 voicemails on his phone from the negotiator, who gave his name as Chris.
"I'm a face-to-face kind of guy," Bundy told the negotiator over the phone, according to the Oregonian. "You reached out to me ... I'm not sure exactly what you wanted to talk about."
The conversation was streamed online by another of Bundy's group.
Bundy said that the militia is "not going to escalate" the standoff, and he promised to speak with the FBI again on Friday.
Oregon Governor Kate Brown expressed her frustration with the fiasco by sending two letters to the Obama administration on Thursday. The first was sent to President Obama, and the other was addressed to FBI Director James Comey and Attorney General Loretta Lynch.

"[There is] harm that is being done to the citizens of Harney County by the occupation, and the necessity that this unlawful occupation end peacefully and without further delay from federal law enforcement," the governor wrote to President Obama.
The governor's letter to the heads of the FBI and the Department of justice claims that the group is intimidating the citizens of Hamey county, and suggests the group is itching for a fight.

READ MORE: Oregon Standoff: Beaver State brothers raise over 26K in 'Go Home' Bundy campaign

"The harm being done to the innocent men, women and children in Harney County is real and manifest," the letter reads. "With each passing day, tensions increase exponentially.
"The residents of Hamey County are being intimated [sic] in their own hometown by armed criminals who appear to be seeking occasions for confrontation."
The FBI seemed to agree with the governor's sentiment. On Thursday, the FBI said in a statement that the standoff has caused "tremendous disruption and hardship" for people in Burns, Oregon and that their "response has been deliberate and measured as we seek a peaceful resolution."
You can share this story on social media: