Coalition airstrike death, injury toll rises to 25; Pentagon blames ISIS for human shields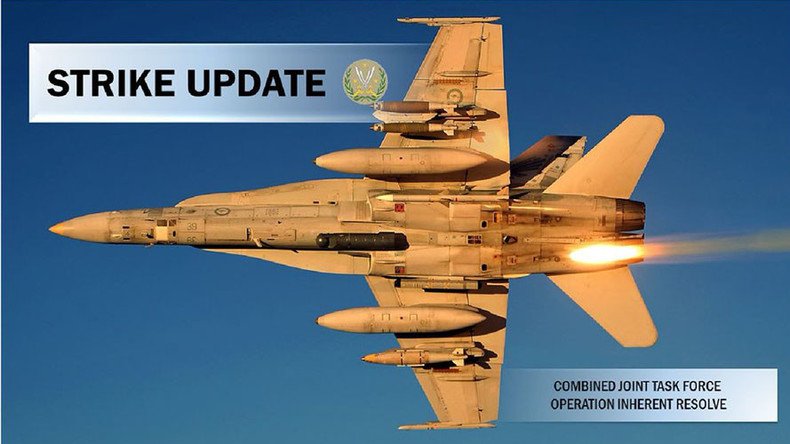 The latest figures released by US Central Command say that 16 civilians have been killed and nine more injured in US-led airstrikes against Islamic State positions in Iraq and Syria.
Until last week, the Pentagon said only six civilians had been killed in 17 months of airstrikes.
Two more deaths and four injuries were added to the toll this week, after eight more deaths and three injuries were announced last Friday. All five of the strikes in which the recently recognized victims died happened in July of last year, and three of them were near the unofficial Islamic State (IS, formerly ISIS/ISIL) capital of Raqqa in Syria.
Pressure on ISIL's financial infrastructure from 230+ Coalition airstrikes is having an effect on their ability to sustain themselves

— U.S. Central Command (@CENTCOM) January 22, 2016
Spox: Evidence indicates 5 separate U.S. strikes in Iraq & Syria, between July 4-17, 2015, have likely resulted in death of 2 civilians

— U.S. Central Command (@CENTCOM) January 22, 2016
"Raqqa is a major city and so you see ISIL hiding among civilian populations, and using human shields to an effect," CENTCOM spokesman Air Force Colonel Pat Ryder told the media on Friday.
"Unfortunately, you have an enemy here with no compassion and no concern for the human cost, and so as they continue to hide among civilian populations and put civilians at risk, it puts us in a situation where going forward we can't guarantee that civilian casualties won't occur," he said. "But that doesn't mean we're going to stop trying to minimize them and prevent them."
CENTCOM said that all the victims were near valid airstrike objectives, and none were targeted by mistake. Two civilians were injured during the successful assassination of Khorasan leader Muhsin al-Fadhli, and another during an attack on 16 bridges near Raqqa.
"In all of the cases released today, assessments determined that although the strikes complied with the law of armed conflict and all appropriate precautions were taken, civilian casualties unfortunately did occur," CENTCOM said in a statement.
In total there have been over 9,700 coalition airstrikes since bombing began in August 2014. Nearly three-quarters of the 120 allegations of civilian casualties that have been officially filed were dismissed as not credible. Almost 20 of the remaining 33 reports – many of them based on accounts of pilots given in debriefing – have been fully investigated, and the inquiries closed. CENTCOM has made 13 cases public, including the latest ones presented on Friday.
The Daily Beast reported earlier the same day that the casualty toll has reached 29, but that the Pentagon is staggering the announcements of civilian deaths over the course of three weeks.
CENTCOM has denied it is holding back information.
"We take all allegations of civilian casualties seriously and assess all incidents as thoroughly as possible. In accordance with our commitment to transparency, we are working to release assessment findings of closed allegations as soon as possible," Ryder told the Daily Beast in an email.
The US State Department recently admitted that it operates a calculus that mathematically weighs the benefits of eliminating important targets against the risks of civilian casualties, though refused to disclose its exact parameters.
You can share this story on social media: