Schoolboy pledges allegiance to ISIS instead of American flag; DHS starts investigation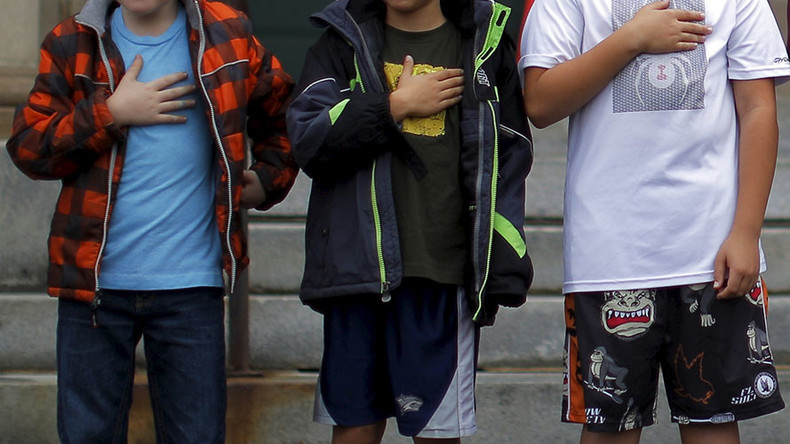 A Connecticut student pledged allegiance to ISIS instead of the United States of America during the daily Pledge of Allegiance just before Christmas break. The 15-year-old boy now has to attend classes in a separate Board of Education building.
The teen is accused of making statements in favor of Islamic State (IS, formerly known as ISIS/ISIL) during the Pledge, Ansonia Police Lieutenant Andrew Cota said Thursday.
"As this is a juvenile matter there is no other information being released," he added.
The police quickly handed the case over to Homeland Security, which assured everyone there was no danger to the community, the Connecticut Post reported. Federal officials declined to comment further.
Regular classes were dismissed "out of an abundance of caution," Floyd Dugas, an attorney for the Board of Education, said.
Others criticized how the school district handled the incident.
The whole matter was blown out of proportion, and is "exactly what the terrorists want us to do," civil rights lawyer John R. Williams said. "To call the cops and Homeland Security is really out of line."
The boy's mother criticized the school for jumping the gun and taking action to remove her son from his school. She gave no comment to reporters trying to contact her, and her comments only made it into a recording of a Board of Education meeting.
The actions were taken not because her boy was badly disciplined or displayed "ill behavior," she said at the meeting, but "because the principal... was allowed to be irrational and make an impulsive decision."
She further claimed the decision was unfounded, because "if it had been founded, it was also an exercise... of his... rights to be able to say what he needs to say. He never threatened anybody, he never harmed anyone."
You can share this story on social media: