Straight Outta Compton: Lawsuit against school highlights toll of daily violence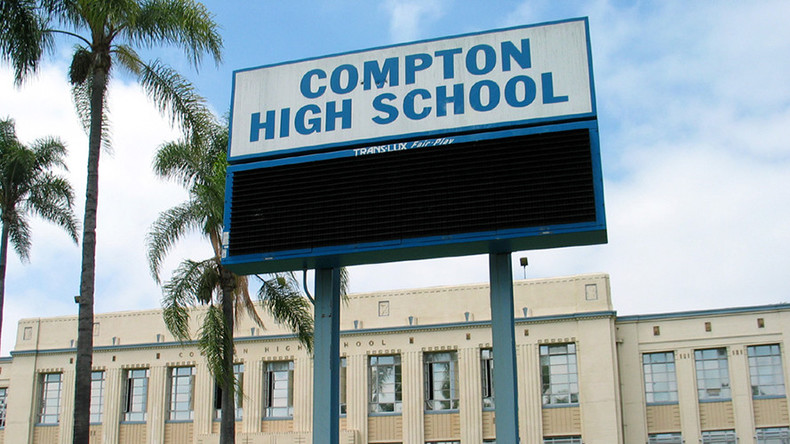 An unprecedented lawsuit against Compton Unified School District calls on schools to recognize "complex trauma" as a disability affecting students who have witnessed extreme violence in the community, under the Americans with Disabilities Act.
Five students and three teachers within CUSD joined the lawsuit brought by Public Counsel, a major public interest pro-bono law firm. Two of the students, brothers "Virgil" and "Phillip," gave interviews to CNN under fake names so they wouldn't face backlash for relaying their experiences in Compton.
They attend high school in the city, which has a murder rate five times the national average. Virgil says shootings can happen anytime.
"I still be shaky about walking in the daytime, 'cause nowadays people don't care out here," he told CNN.
"I was coming home… and this Hispanic guy had an African-American guy on his knees and he just blew his head off," Virgil said, recalling he was no older than six years old at the time. "I was throwing up for like three hours. My momma didn't know why I was throwing up, I just told her I was sick."
Examples like that are what the lawsuit refers to as "complex trauma," citing studies that show a child's brain will change after a severely disturbing event. The ability to focus and reason can be drastically scaled back, inviting more frustration, misbehavior, and even violent outbursts. Subsequently, the student could be pushed further away from education, toward a vicious cycle of punishment that can end behind bars, what some teachers and school officials call "the school-to-prison pipeline."
The lawsuit contends that complex trauma "limits major life activities… including 'learning, reading, concentrating, thinking, [and] communicating,'" and estimates that a quarter of CUSD's 22,000 student population have suffered such violent episodes. That's about 5,500 pupils.
"Because the student plaintiffs and the class members have experienced complex trauma, they meet the definition of 'individuals with disabilities'" under the federal Americans with Disabilities Act, the lawsuit goes on to claim.
"These children are, as a matter of brain science, not able to learn," lead attorney Marc Rosenbaum told CNN. "They are unable to get access to equal opportunity and to fight for their right to be recognized in the same way as if they didn't have teachers or books in their classrooms."
One of the Compton teachers suing the district, Armando Castro, told CNN, "These kids sometimes overreact to the smallest things. Or they keep their heads down and get real quiet. Then I know something is wrong."
Micah Ali, president of the CUSD school board, doesn't dispute the brain science referenced in the lawsuit, but sees the lawsuit as frivolous, telling CNN it will not "get solutions for the students and families who are dealing with violence either at home or in the neighborhood."
Implementing all the lawsuit demands would cripple the district's budget, Ali said. Even defending against the lawsuit could do so, he claimed.
"It would decimate the school district and adversely impact people who the individuals have filed the lawsuit are asserting they would like to help," Ali said.
The lawsuit was initiated by lawyers who then sought out the students and teachers who joined. It asks the district to train teachers and staff to identify those suffering from complex trauma, then for the district to provide them with supplementary help and resources.
"These families are in need. These families are not interested in lawyers making a tremendous amount of money on the backs of poor black and brown people," Ali said.
The school district argues that it already is helping troubled students and providing guidance for teachers, but Castro told CNN, "We had not had that kind of training before the lawsuit appeared."
The question remains how students like Virgil and Phillip would react to more counseling from teachers and school administrators.
"I've seen somebody get shot. I seen somebody get dragged across the field and get hit in the head with the back of a shotgun and then dragged into somebody's house," Phillip said. "There was group of people outside and nobody did nothing. Everybody just sat there and watched, the dude was just screaming out 'help, help.'"
Though Phillip and his brother have attended three different high schools in Compton after suspensions for fighting, they have yet to find education officials they can trust.
"Schools don't take mental problems into consideration and what someone's been through," Phillip said.
"I ain't gonna talk to nobody," Virgil said. "I'm not trusting no school."
While CUSD wanted the lawsuit completely thrown out, US District Judge Michael W. Fitzgerald has only ruled thus far that the case would not be allowed class-action status, that a child who suffered trauma may not necessarily have "cognizable trauma-induced disabilities for purposes of the proposed class definition," and that CUSD would not be forced to arrange more mandatory trauma training.
You can share this story on social media: