Teen pot smoking not bad for IQ, says US study of twins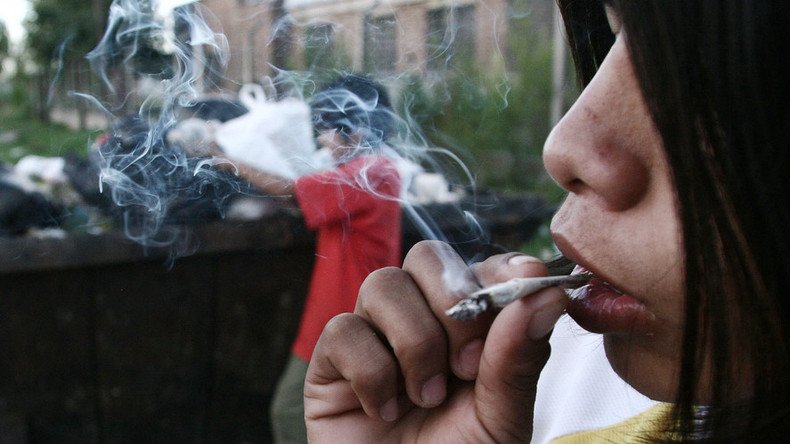 A US study of teenage twins released this week found that smoking marijuana does not lower intelligence.
Researchers at the University of Southern California in Los Angeles and the University of Minnesota say family, school, or peers are more likely to be the cause of a teenager's drop in IQ and not their use of marijuana.
3,000 sets of twins were asked to complete IQ tests at two different stages over a ten year period, once between the age of 9 and 11 and again between the age of 17 and 20. Participants were also asked to self-report their use of marijuana.
READ MORE: Aussie 'stoner sloth' anti-drug ad goes viral – for the wrong reasons

Results showed that while the IQ of those who had smoked weed declined by an average of four points over the decade, the IQ of their non-smoking sibling also declined at a similar rate.
Claire Mokryz, a PhD student involved in the study, told Science Mag that this is a "clear indication that cannabis is unlikely to be the cause of any IQ decline."
Researchers instead believe that "familial factors" may in fact be the cause of the decline.
"Our findings lead us to believe that this 'something else' is related to something about the shared environment of the twins, which would include home, school, and peers," Nicholas Jackson, lead author of the study said.
A similar study earlier this month from researchers in the UK echo these findings. Their results found that out of a sample of 2,235 teenagers, those had used cannabis over fifty times "did not differ from never-users on either IQ or educational performance."
A study carried out in 2012 at Duke University in North Carolina examining the long term effects of marijuana use found the opposite, however.
Scientists said their results showed that the persistent use of the drug did cause a decline in intelligence as well as "cognitive problems".
Critics of the 2012 study noted, however, that researchers did not address other potential possibilities for IQ decline, as was the case with the newer studies.
Last September, the US government's National Institutes of Health awarded 13 grants to projects that will study marijuana, nicotine, and alcohol use with up to 10,000 teenagers.
READ MORE: 2 young dopes with 20 pounds of weed get so paranoid they call cops on themselves
The jury is still out on the effects of adult marijuana usage on IQ after hilarious emergency call center audio surfaced of these two tokers/midnight jokers in Idaho.
You can share this story on social media: