Senate blocks bill toughening controls on entry of Syrian refugees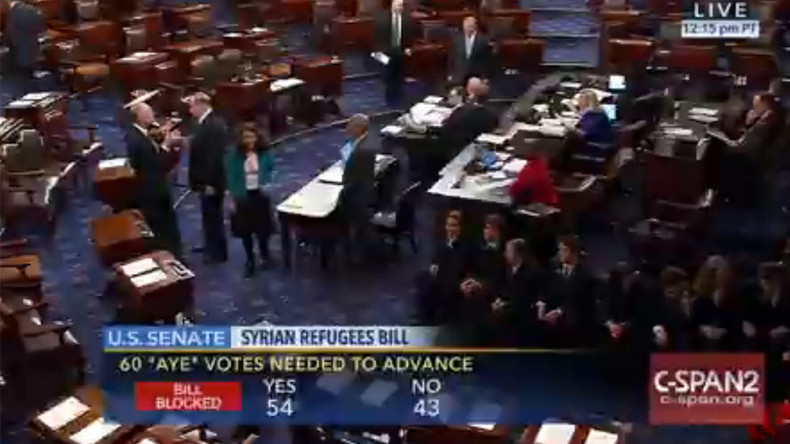 The House-approved bill mandating increased security checks on Syrian refugees was blocked in the Senate, after failing to win enough support to clear a procedural vote.
The SAFE Act of 2015, also known as House Resolution 4038, needed 60 votes to advance in the Senate on Wednesday, but received support of only 55 lawmakers, with 43 opposed.
Passed by the House of Representatives in November 2015, the bill would have required personal guarantees from top US security officials that the Syrian refugees being resettled in the US posed no terrorist threat.
Many Democrats have slammed the Republican-backed bill as a xenophobic attack on President Barack Obama's refugee policy. Prominent Democratic lawmakers argued that its requirements would "incapacitate" the US security apparatus worse than Islamic State (IS, formerly ISIS/ISIL) terrorist ever could.
After an acrimonious debate, 48 Democrats joined 241 Republicans to pass the bill in the House.
Six Democrats needed to back the bill in the Senate in order to close the debate and clear the way for the floor vote, a motion known as cloture. Procedural votes are generally seen as a matter of party discipline, however, and very rarely result in defections across the aisle.
Minority Leader Harry Reid (D-Nevada) offered to support the cloture if the Republicans agreed to vote on two proposals put forth by the Democrats, reported The Hill. Reid's bills sought to ban firearms sales to individuals on US terrorist watch lists, and condemn GOP presidential hopeful Donald Trump's call to bar Muslims from entering the US.

"We're not afraid of having an open amendment process but this whole idea of having a bunch of show votes to bring the presidential campaign here on the floor of the Senate doesn't strike me as very constructive," said Senate Majority Whip John Cornyn (R-Texas), according to The Hill.
You can share this story on social media: