Opposing rallies face off in Pennsylvania over arrival of Syrian refugees (VIDEO)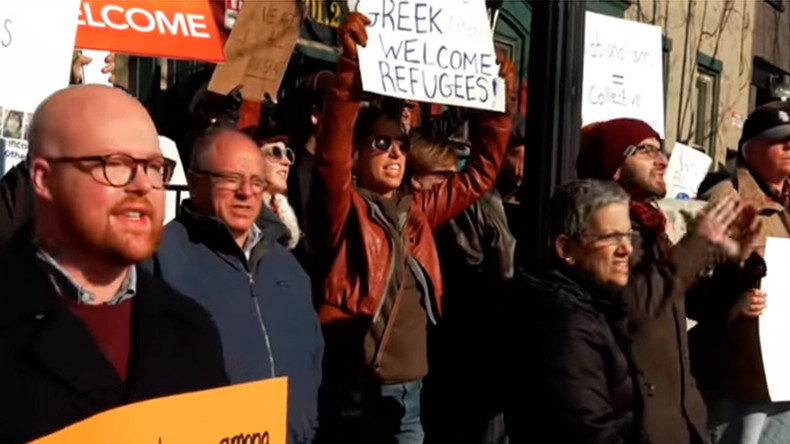 As the first Syrian refugees began to arrive in Pennsylvania, two opposing groups staged their rallies in Lancaster, heating up the debate over the refugees set to arrive in the US.
Local anti-refugee activists have been gathering supporters through their Facebook event page to organize a rally on Saturday outside the Church World Service's building – a faith-based refugee resettlement organization that helped three Syrian families move to Lancaster county this year.
"It's not about not liking refugees," Lancaster Online newspaper quoted Bridget Fisher, an organizer of the anti-refugee rally and a leader of the Patriotic Liberty League, as saying. Fisher, who said she is a single mother of two who was recently homeless, claimed the Syrian refugees are being treated better than the locals.
"We're offended that these people come here, they get housing, they get preferential job treatment," she said. "American citizens are being pushed aside. We're being put on the back burner. When do we come first?"
Those attending the anti-refugee gathering were seen waving American flags while chanting "Say NO to refugees," "Americans first" and "Vets before refugees." Many were also holding placards exploiting fears the "influx" of refugees might bring affiliates of Islamist terror groups to the US.
Organizers of a counter-rally called "Lancaster Welcomes Refugees" said America is, above all, a nation of immigrants, with the Lancaster community being no exception.
"It's part of the DNA of the Lancaster community to welcome refugees and help them get settled," co-organizer Kevin Ressler told Lancaster Online. "There are people from outside the community who want to foment unrest ... but it's good to be in a community that cares."
Prior to the rallies, there was speculation that white supremacist groups may join the anti-refugee protest, along with fears of attendees bearing concealed firearms, Al Dia news outlet reported. Although both pro- and anti-refugee activists were engaged in verbal confrontations, no violent clashes have been reported.
"We've had a varying amount of interaction with [the anti-refugee group]," another co-organizer of the pro-refugee rally, Drew Garza, told Al Dia. "It's pretty blatantly Islamophobic, equating all Muslims with terrorism and acts of violence. There is a distinct ultra-nationalist slant to the things they spew."
READ MORE: Half of Americans would ban Syrian refugees, send ground troops to fight ISIS – poll
The US has been reluctant to host any significant share of refugees from the Middle East, with only a relatively small portion – in contrast to that of taken by European countries – of people allowed in.
In November, Pennsylvania Governor Tom Wolf was among few US governors to agree to host Syrian refugees in his state. Most states have rejected "open-door policy" playing on ordinary people's fears that predominantly Muslim refugees might bring terrorism and violence to the American soil. Other elected officials were calling to secure their state borders in the wake of the Paris terror attacks.
Since December 2013, the United States has received just 2,441 refugees from Syria, 44 percent of which were children under 14 years of age.
You can share this story on social media: