US Navy deploys first 'Great Green Fleet' ships partly powered by biofuel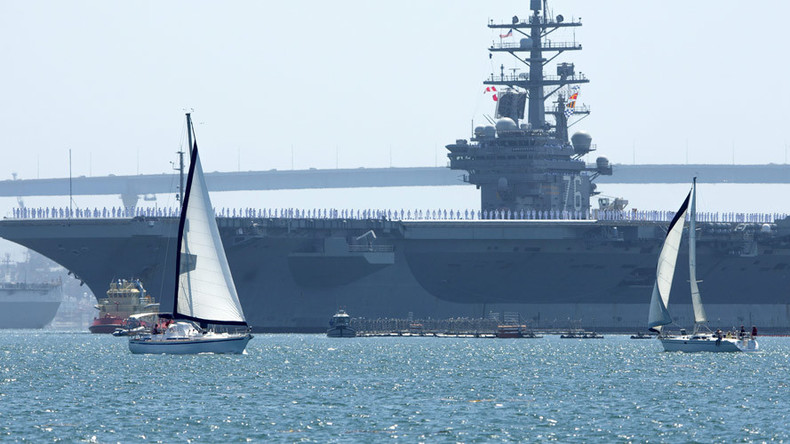 The US Navy is launching the first ships of its 'Great Green Fleet,' which is so named because it will by partly powered by renewable fossil fuel alternatives. The launch, however, comes at a time when oil prices are dropping to historic lows.
The Wednesday deployment of the carrier group is taking place in Coronado, California and will be attended by Secretary of the Navy Ray Mabus and Secretary of Agriculture Tom Vilsack.
The launch of the next-generation ships is the first step in the Navy building its "Great Green Fleet," a flotilla that is powered by renewable biofuels and using energy conservation measures. However, the carrier strike group being deployed Wednesday is only powered by a mix of 90 percent petroleum and 10 percent biofuel, even though the Navy originally aimed for a 50/50 ratio.
Secretary Mabus told Reuters that the Navy has cut its oil use by 15 percent since he took office in 2009, and that the Marine Corps has reduced its consumption by 60 percent. He argues that a focus on energy-saving technology gives advantages to the Navy beyond reducing its carbon footprint.

"In 2010, we were losing too many Marines in convoys carrying fossil fuels to outposts in Afghanistan, and the prohibitive cost of oil was requiring us to stop training at home in order to keep steaming abroad, a dangerous and unsustainable scenario," Mabus said in a statement.
The Navy plans to have its fleets powered by at least 50 percent biofuel by 2020 so that fuel can't be strategically withheld by foreign suppliers in the event of a conflict. Reducing decencies on foreign oil is a national security strategy being undertaken by all branches of the US military.
However, the cost of biofuels are still much higher than the cost of petroleum, especially since oil is currently trading at its lowest level in more than a decade. Many Republicans in Congress objected three years ago when the Navy received $210 million in subsidies to help private firms build biofuel refineries, and their skepticism was validated by oil now trading under 30 dollars a barrel.
You can share this story on social media: