'You won't be charged': Cop probed after saying it's OK to run over Black Lives Matter protesters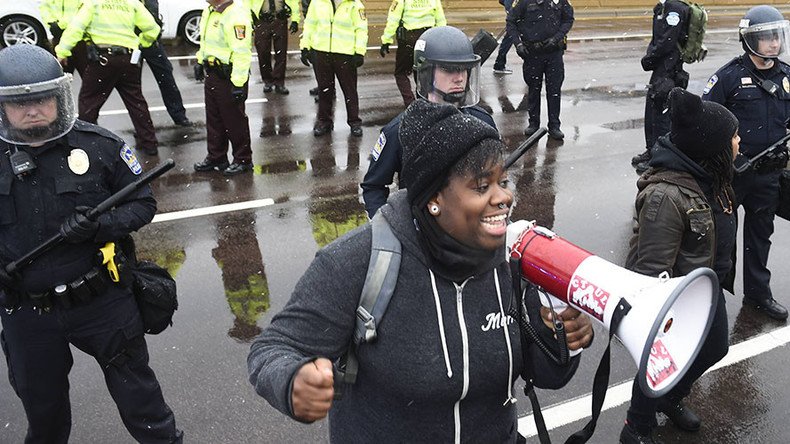 A police officer in St. Paul, Minnesota, is on administrative leave over a Facebook post in which he urged drivers to run over protesters on Martin Luther King Day, claiming they wouldn't be charged with any crime and would likely win any civil suit.
The post, published under the name "JM Roth," said drivers shouldn't "slow down for any of these idiots who try and block the street," referring to protesters participating in a Black Lives Matter event on January 15.
"If you hit someone make sure you call 911 to report the accident and meet the cops a block or two away," the instruction states, adding that fear of violence from the demonstrators would be a good reason to stop farther away from them.
"Since they are trying to block the street and/or cross where there is no crossing you should not be charged with anything. Now, these idiots could try and sue you in civil court, but remember that it will be jury trial and so most likely it will come out in your favor," the post suggested.
The author of the post, which has since been removed, was identified as Sgt. Jeff Rothecker by Andrew Henderson, a community activist who monitors police behavior.
"I was just flabbergasted," Henderson said, as cited by the Star Tribune newspaper. "A law enforcement officer is supposed to serve and protect the people, not incite violence against them."
The St. Paul Police Department (SPPD) would neither confirm nor deny the identity of the officer, but said it is conducting an investigation. An officer was put on administrative leave in connection with the probe, police spokesman Sgt. Mike Ernster told the media.
The SPPD and Mayor Chris Coleman condemned the Facebook post.
"The statement is offensive, disappointing, concerning and does not reflect in any way – or align with – the views, values and practices of the St. Paul Police Department," it said in a statement.
"I am outraged and disgusted by the post and have directed the SPPD to investigate," a statement released by the mayor's office said. "That investigation is currently underway."
Black Lives Matter is a nation-wide movement standing against what activists see as unjust treatment of black people by the American law enforcement and justice system. The name came from a popular hashtag used by social media to express outrage over the 2013 acquittal of neighborhood watchman George Zimmerman in the shooting to death of African-American teen Trayvon Martin.
You can share this story on social media: