Washington Post reporter Jason Rezaian & 4 others freed in Iran prisoner swap deal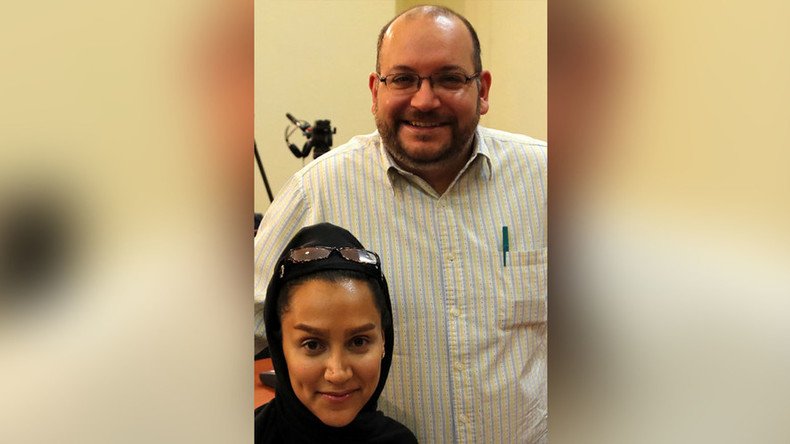 Iran has freed five prisoners with dual Iranian-US nationality, including Jason Rezaian, a Washington Post reporter who was arrested in Tehran more than a year ago, the Tehran public prosecutor said on Saturday.
"In line with orders from the Supreme National Security Council and in the national interest, four Iranian dual national prisoners have been released in a prisoner swap," Abbas Jafari Dowlatabadi was quoted as saying by Iranian news agencies.
The news of Rezaian's release was broken by France 24, which cited its correspondent in Iran, the Associated Press, who cited own sources in Tehran, Mehr and Fars news agencies.
Rezaian, Tehran bureau chief for the Washington Post, was arrested in his home in the Iranian capital in July 2014 along with his wife, Yeganeh Salehi, also a journalist, and two friends. He was charged with espionage in a closed-door trial in May 2015 and several months later sentenced to jail, though the final charges or the term length were not made public. His wife was released on bail in October 2015, and is facing a separate trial.
"We couldn't be happier to hear the news that Jason Rezaian has been released from Evin Prison. Once we receive more details and can confirm Jason has safely left Iran, we will have more to share," Frederick J. Ryan Jr., publisher of the Washington Post, said in a statement.
The remaining three prisoners are ex-marine Amir Hekmati, businessman Siamak Namazi, and Pastor Saeed Abedini. Abedini's wife has confirmed his release on Twitter. He was arrested in 2012 after being accused of "undermining national security" via private religious gatherings in Christian houses.
The US is expected to free seven Iranian nationals, IRNA news agency said naming them as Nader Modanlo, Bahram Mechanic, Khosrow Afghahi, Arash Ghahreman, Tooraj Faridi, Nima Golestaneh and Ali Sabouni. According to AP, they have already arrived in Tehran.
Washington has yet to confirm the prisoner release, but a US official told Reuters on the condition of anonymity that the swap did take place, though it was more of a humanitarian gesture than an exchange.
READ MORE: Western-imposed sanctions against Tehran to be lifted Saturday – Iranian FM
The US officials said that Iran has also released one more prisoner, Matthew Trevithick, a student detained several months ago, though it is unclear exactly when that took place.
"We wanted him [Trevithick] obviously to be a direct part of this, and made clear to Iranians that [his release] would be an appropriate humanitarian gesture," the Washington Post cites an unnamed US official as saying.
The family of Trevithick, who spent 40 days in detention, has confirmed his release
Iran expects the West to lift the sanctions against the Islamic Republic on Saturday. The International Atomic Energy Agency (IAEA) is set to release a final report that may confirm Iran has fulfilled its obligations outlined by the Joint Comprehensive Plan of Action, commonly known as the nuclear deal, which was signed by Tehran and six world powers last year.
US Secretary of State John Kerry has already joined the EU's top diplomat Federica Mogherini Iranian Foreign Minister Mohammad Javad Zarif in Vienna, where the IAEA is headquartered, for the report's release.
You can share this story on social media: