Stripped naked & hosed down after hazmat spill, Good Samaritans settle suit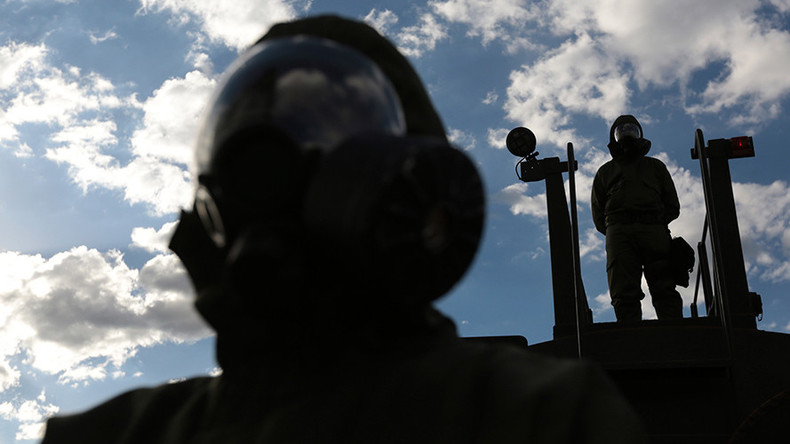 In 2013, two women attempting to help the driver of an overturned semi-truck ended up exposed to hazardous materials. They were then hosed down naked in freezing temperatures by emergency crews. Now, they have settled a lawsuit for nearly $100,000.
At 1 am on November 2, 2013, on their way back to Idaho after attending an event in northern Oregon, Kortney Broecker and Shantelle Nay were driving along Interstate 84 when they came upon a semi-truck crash. According to their attorney, Randy Oetken, they first pushed large pieces of metallic debris off the freeway before discovering the wrecked truck and its injured driver.
In the process of aiding the driver, they were exposed to tetramethylammonium hydroxide, a neurotoxin carried in the truck that is used in the semiconductor industry, according to OregonLive. As much as 4,000 gallons of the potentially-fatal substance was spilled over I-84 at the site, leading to a shutdown of the freeway. Upon calling 911, the women were told emergency responders were not on their way, given that it was a hazardous material scene, Oetken said. They were told to stay where they were.
The pair, as well as two other passengers who were not exposed to the chemical, drove to the next exit along the interstate anyway, where emergency crewmembers told them to take off all their clothes in freezing temperatures so they could be doused with water to address the chemical exposure, Oetken said. All of their possessions, including Broecker's Nissan Pathfinder, had to be incinerated after exposure.
"It's about traumatic as it gets," he said.
Ronald Glenn Hanes Sr., the driver of the semi-truck, was cited for reckless driving. He told police he had briefly taken his eyes off the road, Oetken said. He worked for LeSaint Chemical Logistics.
The women filed a lawsuit in Multnomah County Circuit Court against Hanes and LeSaint Chemical in December 2015 seeking $200,000 each for emotional distress, pain, and suffering. They ended up settling with the company for nearly $100,000 in late December, Oetken said.
According to the lawsuit, the pair have experienced numerous health problems related to their exposure, including severe headaches, spontaneous vomiting, acute nausea, hair loss, eye pain, vision problems including seeing flashes of light, sharp chest pains, persistent wheezing, and coughing spasms. Some of the conditions are ongoing, according to the lawsuit.
The company, based in Texas with offices in Oregon, was not cited for any legal infraction, according to officials with the Oregon State Police, the Oregon Department of Transportation, and the Oregon Department of Environmental Quality, OregonLive reported.
You can share this story on social media: