GOP candidates dance more to Trump's tune on Muslim immigration ban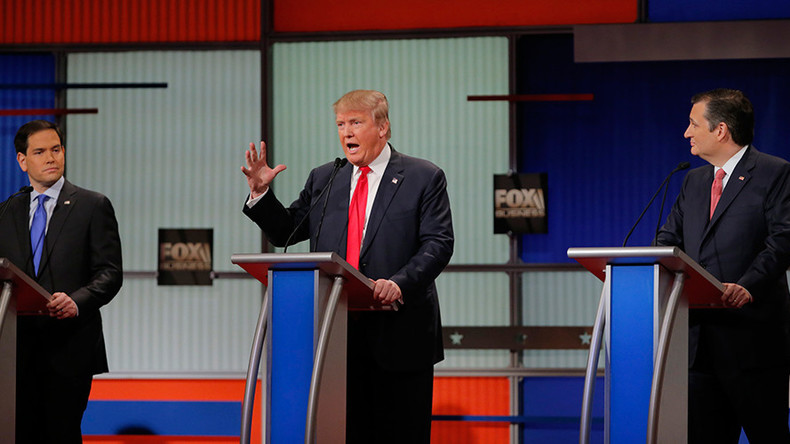 Noting that Republican presidential frontrunner Donald Trump's proposed ban on Muslim immigration to the US was the top trending campaign topic on Facebook in 2015, GOP debate moderators asked the candidates their thoughts on the policy.
Like other Trumpisms, the Muslim ban rhetoric was thought to be the end of his campaign. Instead, it made him more popular among Republican primary voters. With the February 1 Iowa caucus nearing, the issue could be key to deciding who takes an early lead in the GOP primaries.
Last month, a Washington Post-ABC News survey, not of just Republican voters but all Americans, showed one-quarter were in support of Trump's idea. An additional 11 percent supported it "somewhat." Also in December, a Quinnipiac University poll found 51 percent of Americans against bringing in Syrian refugees, while 82 percent of Republicans opposed it.
With these numbers in mind, here is how the Republican contenders answered the question of whether they supported Trump's Muslim immigration ban.
Donald Trump
Predictably, Trump did not back down from one of his top issues.
"I want security for this country," he said. "We have a serious problem with radical Islam. We have a tremendous problem."
"We have to stop with political correctness," Trump added. "We have to find out what's going on. I have many great Muslim friends, and some of them, not all, have called me and said, 'Thank you very much, you're exposing a serious problem.'"
"We can't be this stupid country anymore."
John Kasich
Ohio Governor John Kasich has attacked Trump in previous debates, but on this subject he was more measured.
"I've been for pausing Syrian refugees," Kasich said. "But we don't want to put everybody in the same category."
"We need the Saudis, we need the Egyptians, we need the Jordanians," he implored, to fight the Islamic State in Iraq and Syria. He also said the current process for vetting refugees isn't sufficient.
Chris Christie
New Jersey Governor Chris Christie also promoted his opposition to taking any "Syrian refugees of any kind," citing FBI Director James Comey, who expressed doubt in the country's vetting system, before moving on to address Trump's policy directly.
"You can't just ban all Muslims. You have to ban the radical Islamic jihadists," Christie said, calling for an expansion of and boost to the National Security Agency and intelligence community.
Marco Rubio
Florida Senator Marco Rubio evaded the chance to speak to the Muslim ban head-on, saying merely: "If we do not know who you are, and we do not know why are you coming, when I am president, you are not getting into the United States of America."
Ted Cruz
The surging contender, Senator Ted Cruz of Texas, went with the tactic of explaining why Trump's plan had appeal, rather than argue against it, but he did offer up his own plan to combat domestic threats from the terror group Islamic State (IS, previously ISIS/ISIL).
"If an American goes and wages jihad against America, then you forfeit your citizenship," Cruz said, adding that reentry to the country with a US passport would be blocked.
Going over his time, Cruz added: "We will not weaken them, we will not degrade them, we will utterly and completely destroy [Islamic State]."
Ben Carson
Ben Carson, the pediatric neurosurgeon-turned-GOP contender, said: "Clearly what we need to do is get a group of experts together… " in order to "come up with new guidelines for visas."
Instead of supporting or criticizing Trump, Carson suggested he would use common sense by listening to the advice of allies Israel and Jordan on such a policy.
Jeb Bush
Former Florida Governor Jeb Bush was the sole candidate to take on Trump straightforwardly, calling him "unhinged."
"Yeah, they are unhinged," Bush repeated after moderator Neil Cavuto asked him to clarify.
Bush said Trump's plan would make it impossible to build an alliance against Islamic State.
"The Kurds are our strongest allies. They're Muslim. You're not even going to allow them to come to our country?" Bush said.
"Are we gonna ban Muslims from India? Indonesia?" Bush continued, adding he would tighten up the visa entry program.
"I hope you'll reconsider," Bush told Trump of his proposal.
You can share this story on social media: