No boots on the ground? Pentagon plans to help retake ISIS hotbeds Raqqa and Mosul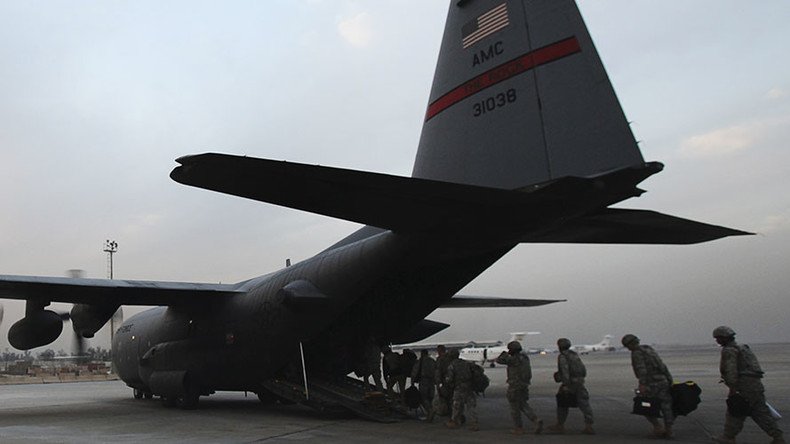 US Defense Secretary Ash Carter has said the Pentagon plans to defeat Islamic State militants by helping local forces to retake Mosul and Raqqa. The Pentagon chief also said a commando task force is already on the ground in Iraq.
Carter was speaking at Fort Campbell on Wednesday to soldiers of the 101st Airborne Division and 2nd Brigade Combat Team, which will deploy to Iraq. He said that Islamic State (IS, formerly ISIS/ISIL) would face "the long arm and the hard fist of justice."
In Iraq and Syria, Carter added, the coalition will try to cut off key transit routes to Raqqa and Mosul, thus preventing Islamic State from moving militants to and from those locations, according to a Pentagon press release.
The bottom line of the plan is to help the Iraqi army and Kurdish Peshmerga forces retake Mosul in northern Iraq, while assisting "moderate" Syrian forces in ousting IS militants from the Syrian town of Raqqa.
"The specialized expeditionary targeting force I announced in December is now in place and is preparing to work with the Iraqis to begin going after ISIL's fighters and commanders, killing or capturing them wherever we find them, along with other key targets," Carter said.
The Pentagon chief also said about 200 US special forces troops are already on the ground in Iraq.
He declared the plan would "deliver lasting defeat" over IS, but told the troops the US-led war on the terrorist group is far from over and warned the nation "extraordinary challenges are ahead."
About 500 troops from the 101st Airborne headquarters group will deploy at the end of February, according to Associated Press. About 1,300 troops of the 2nd Brigade Combat Team will deploy to Iraq in late spring. The brigade will train Iraqi and Peshmerga forces.
The US already has some 3,500 troops in Iraq, mostly working as advisers and trainers for the country's security forces.
"That means everybody has to be in the game," Carter said, meaning Washington will urge its allies France, Australia, Germany, Italy, the Netherlands and the UK to step up the fight against IS.
"Each of these nations has a significant stake in completing the destruction of this evil organization and we must include all of the capabilities they can bring to the field," he said.
Damascus has repeatedly dismissed the US-led operation against IS as ineffective, saying the Western airstrikes target mostly civilian infrastructure to destroy the "capacities of the Syrian people" and complicate post-war reconstruction.
You can share this story on social media: